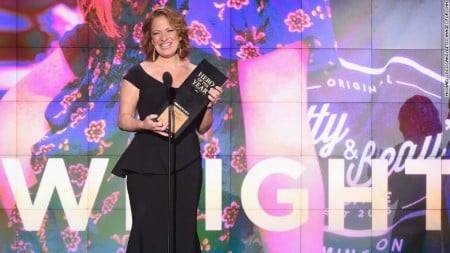 (CNN) — "My children are not broken," Amy Wright insists.
Most parents don't have to declare their children's fundamental value, but after two of 2017 CNN Hero of the Year Amy Wright's kids were born with Down syndrome, it was clear that she would have to back them up every step of the way.
"When you become a parent of a child with special needs, you are instantly thrust into becoming an advocate," Wright explained. "Trying to make people see the beauty in their lives that we see."
Wright's advocacy took the form of a coffee shop. She opened Bitty & Beau's Coffee in January 2016, named for her two children.
On Sunday, it was clear that Wright, Bitty, Beau and the 40 disabled employees at the Wilmington, North Carolina, shop have an army of supporters.
Wright was named the 2017 CNN Hero of the Year for her efforts to advocate for disabled people. The award is determined by online voters who selected Wright from among the top 10 CNN Heroes finalists.
Wright will receive $100,000 to grow her cause.
All of the top 10 CNN Heroes for 2017
will receive a $10,000 cash award. Donations made to each of their designated nonprofit organizations are also being matched up to $50,000.
"I am bringing this home to the 40 employees who work at Bitty & Beau's because they are my heroes. And most of all to my two youngest children, Bitty and Beau, who are my inspirations," Wright said, hugging her CNN Hero of the Year award. She had a special message for her children.
"I want you to know, because I know you are watching, that I would not change you for the world, but I would change the world for you."
After all, people with physical and intellectual disabilities can be judged by their appearance alone. When Wright and her husband learned that 70% of the disabled are unemployed, they decided to become a part of the solution — for their children and others.