1960's - The Beginning
Sister Anna Marie Meyers faced a challenge when 14 high school students with disabilities were nearing graduation without job prospects. To address this, she established The Occupational Training Center as an extension program of Christ Child School in St. Paul, Minnesota. Later, the Training Center evolved independently from the school, appointing John DuRand as the first Executive Director, marking the commencement of Minnesota's inaugural supported work program.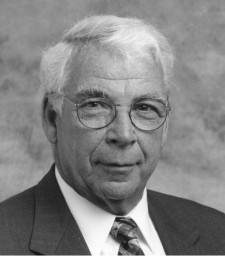 1970's - Developing Concepts
In 1973, manufacturing contracts begin with a large government customer and 3M which remain in place today. Over the next decades these and other business opportunities create hundreds of jobs for people with disabilities. Projects use a mixed workforce of craftsmen and people with disabilities. In 1976, The Occupational Training Center becomes Minnesota Diversified Industries (MDI).
1980's - Gaining Momentum
Electronic assembly capabilities attract new customers growing employment to 600, while a capital campaign raises $2.3 million for building/equipment renovations.
1990's - Years of Growth
Growth continues throughout the decade with the opening of two Northern Minnesota locations – Hibbing (1992) and Grand Rapids (1993). The decade wraps with MDI moving its headquarters to the newly renovated St. Paul facility.
2000's - Changing Times
Employment is at over 400 and the focus is on growing commercial business. In 2004, ground is broke to triple size of the Grand Rapids facility, and MDI receives a three year grant to expand career opportunities for people with disabilities. In March 2008, John DuRand, MDI Founder, passes away, and current President & CEO, Peter McDermott, takes office in August.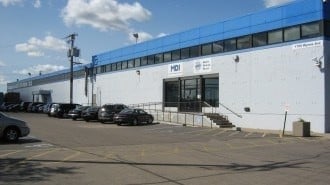 2010's - From Lows to Highs
The decade starts slow, with no government contract orders, and despite the growth of commercial business, employment drops to 120. But in 2011, a "surge order" and new commercial business expands employment to 440. MDI celebrates the 75th millionth plastic "flat tub".
2013 - 2014
Deer River Hired Hands is acquired providing daytime training and habilitation for over 50 people with disabilities in the recycling business. Later that year, MDI receives ISO 9001:2008 certification. MDI celebrates 50 years and moves from St. Paul to its current facility in Minneapolis.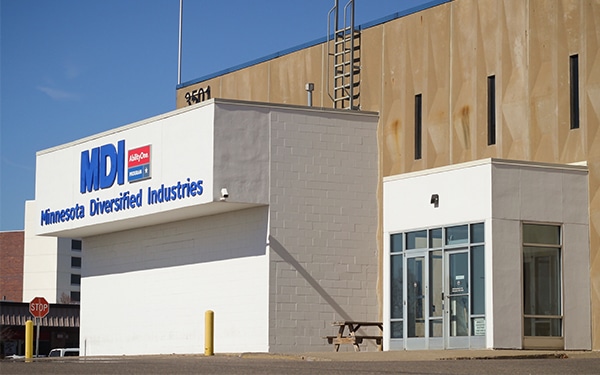 2015-2017
In 2016, MDI purchases a building in Cohasset, MN to improve the working conditions for the Hired Hands employees. MDI breaks ground on a new $4.7 million facility in Hibbing and obtains ISO 9001:2015 certification. Product offerings expand to include polypropylene plastic. Services expand in Minneapolis to include medical assembly done in a newly completed "White Room".
2018-2019
MDI obtains ISO 13485 and FDA registration for medical device assembly.  Brand new $4.5 million facility in Hibbing opens in early 2018.  In 2019, MDI secures a new $2.7m commercial business account for distribution totes. The Quest Transition Program launches, inside MDI Cohasset, for students 18-21 years old with special needs. MDI's Career Skills reaches 176 graduates and expands outside of MDI.  The team successfully delivers a $2.4 million orders for a new Fortune 500 customer that has tremendous employment impact.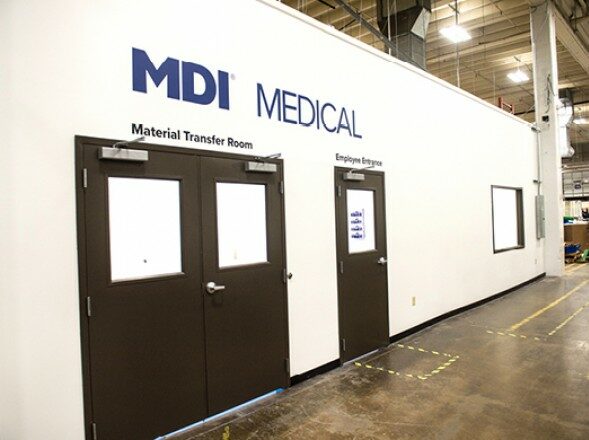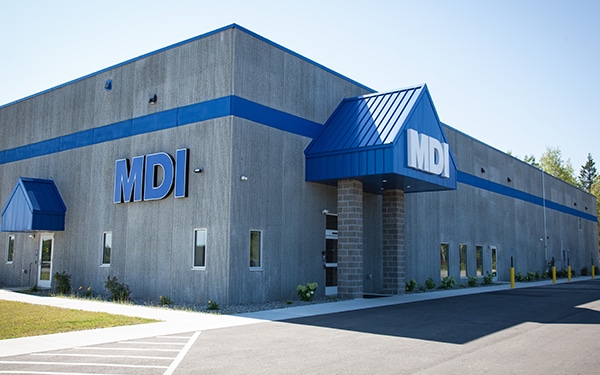 2020 - 2021
Year starts strong and in March, COVID-19 pandemic spreads to US. MDI is declared an essential supplier to the USPS and 28 commercial customers and continues to operate all four facilities. MDI's number one goal becomes mitigation of infection risk to all employees. In the second quarter over 140 employees go on furlough and overall business slows. In early August, the USPS orders 2 million totes and 1 million EMM trays resulting in a temporary surge, hiring over 250 contract employees and bringing back the vast majority of those on furlough. Investment in new polypropylene extruder from Italy is approved and ordered for installation and start up in late 2021.
2021 - 2022
The USPS temporary surge order was completed the beginning of 2021. Peter McDermott retires April 1 and Eric Black takes over as President & CEO.
2023 - Present
Building on the framework and legacy of Career Skills, MDI launched the Unified Work Academy. Through virtual and newly developed in-person courses, several participants throughout Minnesota and beyond developed soft skills vital to professional success and are now better prepared to enter the workforce.