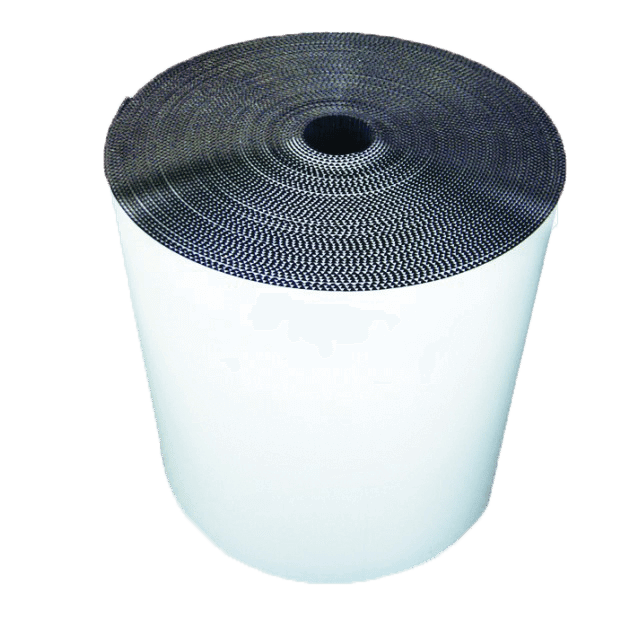 Used in multiple applications, including dunnage protection, tree protection, and insulation. Lightweight, yet durable, plastic rolls are used in multiple applications, including dunnage protection, tree protection, and insulation.
MDI plastic rolls are made of polyethylene and can be double-faced or single-faced.
Less Waste: Big Savings
As with all our plastic container solutions, our corrugated rolls are in it for the long run, preventing frequent cardboard replacement. They are also lightweight, which may reduce transportation costs and make handling easier.
Weather and Chemical Resistant
Durable in both cold and humid environments, our corrugated plastic rolls allow for a natural heat transfer and protect your products from impact, leaks and moisture.
Long-term Savings
MDI plastic rolls are 100% recyclable and reusable, which means you save more and waste less when you choose our products.
Corrugated Plastic Rolls
Here at MDI, we put people first and remain committed to doing the right thing for our team while providing quality products to our customers. We offer custom plastic products and assembly. We are known for delivering high-quality corrugated plastic rolls, including those used to make signs. Our corrugated plastic is incredibly durable and weather-resistant, making it a great material to use outside in the elements.
You can also use corrugated plastic during the construction process. It's perfect for protecting floors, countertops, and walls. Wrapping items on corrugated plastic during transport keeps them safe. You can even use it to separate and protect wires and cables. With so many diverse uses for corrugated plastic rolls, it's an ideal material to keep on hand.
Single Faced Corrugated Plastic Rolls
Single-faced plastic rolls have a solid base with a corrugated top layer. This corrugated plastic roll is highly durable, thanks to two layers of polyethylene. It's water resistant and can handle hot and cold weather without cracking. Due to the single flat layer, it's more flexible than double faced corrugated plastic rolls.
You can also use single face corrugated plastic rolls to protect items from the elements. It's stronger than cardboard and thicker than plastic wrap. Corrugated plastic keeps things safe from the weather, and you can reuse the plastic multiple times. Choose rolls 250 or 500 feet long and up to 53.5 inches wide.
Double Faced Corrugated Plastic Rolls
Double-faced corrugated plastic rolls offer two smooth sides with the corrugated plastic held securely between. It has an extra layer of protection compared to single-faced plastic rolls. You can use double-face corrugated plastic rolls in any situation you'd use single-face corrugated plastic rolls. The main difference is that the outside will look smooth regardless of how you unravel the roll. Choose rolls 250 or 400 feet long and up to 53.5 inches wide.
Made from Durable and Reusable Polyethylene
Polyethylene is a flexible, light plastic that makes food containers, plastic bags, and various packages. When corrugated and layered together, polyethylene is strong and durable. These qualities make it ideal to use for construction protection.
Corrugated plastic rolls offer more protection than a standard drop cloth or tarp. Since they're polyethylene, you can clean them off, roll them up, and reuse them many times. As a result, you'll save money while saving the environment, making corrugated plastic very cost-efficient.
Weather and Chemical Resistant
Corrugated plastic can handle humidity, cold weather, and extreme heat. The material protects everything it covers, so there's no need to worry about moisture from weather or chemical leaks.
Corrugated Plastic Rolls for Industrial Use
Corrugated plastic rolls have many industrial uses. Whether you choose single face corrugated plastic or double face corrugated plastic, you get a durable product. You can make this plastic into items like:
Corrugated plastic boxes
Corrugated plastic totes
Corrugated plastic recycling bins
You can also use entire rolls of corrugated plastic for the purposes reviewed below.
Plastic Roll for Dunnage
Dunnage is a way to protect cargo during transport. Throughout the years, manufacturers have used loose wood or matting for the purpose, but corrugated plastic is the best choice. You can cut it to any size needed to protect your goods. In addition, it's extremely flexible, so you can roll or fold it into the shape that keeps your products from rubbing together.
Since corrugated plastic is durable and resistant to dirt, oil, and grime, you can use it repeatedly. Buying corrugated plastic rolls saves you a lot of money in the long run because you can reuse the plastic for many shipments.
Protective Wraps for Cable and Wiring Reels
Industries that use large reels of cable and wiring need a practical, cost-efficient way to protect the product during shipment. A cardboard box would have to be massive, and the material couldn't resist the weather.
Wrapping cable and wiring reels in flexible corrugated plastic cut down on shipment products needed. You can roll the plastic over the delicate cable to protect it from the elements. It prevents the need for boxes so you can make the most of your shipping space.
Plastic Pipe Wraps
Pipes are difficult to ship because they typically go on a flatbed truck. Since it can be tough to protect them from rain, heat, and cold, wrapping them in corrugated plastic is a practical option. It's flexible enough to fit around pipes of any size. You can keep them closed with zip ties and know your pipes stay protected for the entire journey.
Protective Casing for Transporting Goods
Finding the right packaging material for appliances and construction equipment can be difficult. Instead of finding a large cardboard board that's cumbersome to carry and will fall apart in the rain, use corrugated plastic rolls.
The corrugated plastic rolls are flexible enough to easily wrap appliances and equipment of any size, keeping them from getting wet and damaged. You can choose from the single face or double face depending on how much flexibility and protection you need.
Tree Wraps
Corrugated plastic can protect trees from chemicals as they're growing. A young tree shouldn't have pesticide exposure until it can fend off the harmful chemicals, so wrapping the base in corrugated plastic rolls protects them.
This plastic doesn't rip or tear, so it can also protect your tree from extreme weather. Even sharp rodent teeth can't bite through corrugated plastic. When your tree grows, you can remove the plastic protection and use it for something else.
Partner With MDI
Here at MDI, we believe in building a strong, collaborative community. We created an inclusive workplace that hires people with disabilities, helping them gain independence. Partner with us and make a difference in the community by buying your corrugated plastic rolls from MDI.
Features and Applications
Product Features
Impact, water and chemical resistant
Durable in cold and humid environments
Allows for natural heat transfer
Fiber and dust free
Lightweight for lower transportation costs and easier handling
Reusable and 100% recyclable
Applications
Construction

Distribution and shipping

Manufacturing and production

Packaging

Transportation dunnage

Partitions, dividers, and inserts for parts partitioning; coil, wire, and cable protection
Our double-and singled-faced plastic rolls are ideal for surface protection for floors, walls, countertops and carpet in construction sites; transportation dunnage, partitions, dividers and inserts for parts partitioning; and coil, wire and cable protection.
Double-Faced Corrugated Plastic Rolls

Rugged and durable yet lightweight, our double-faced corrugated plastic rolls are highly versatile and easy to handle, fabricate and convert.

Roll Specification:

Length 250' or 400' x Width up to 53.5"

in




Weight:

160lbs

Learn More

Single-Faced Corrugated Plastic Rolls

Featuring two-layers of polyethylene, our single-faced plastic rolls are water resistant and offer durability under extreme temperatures.

Roll Specification:

Length 250' or 500' x Width up to 53.5"

in




Weight:

110, 125, 150, 250lbs

Learn More