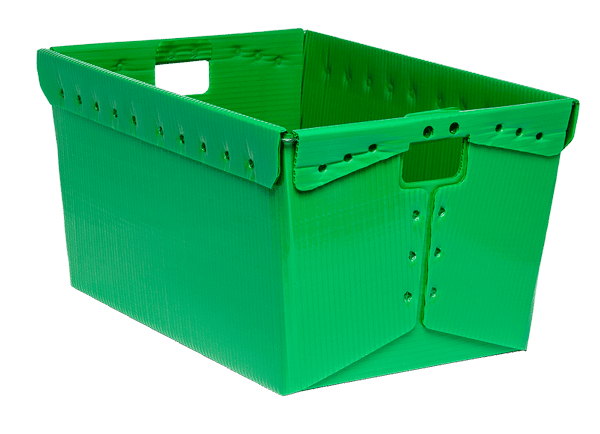 Here at MDI, we have been in the business of producing reliable, reusable plastic solutions, and skill production services since 1964. We provide corrugated plastic products, outsourcing solutions, and manufacturing services nationwide. Our plastic totes and bins are made to help your company pack, deliver, and store your products with confidence.
If you believe your operation is not running at maximum efficiency, it may be time to look into solutions. Quality totes and bins could make all the difference in your warehouse production and safety.
Browse Our Corrugated Plastic Totes
Experience You Can Count On
From carriers in need of corrugated plastic mail totes to large manufacturers looking to maximize space in their warehouses, we've helped many businesses cut costs and increase efficiency with corrugated containers that protect their inventory.
Weather Resistant and Durable Plastic Bins
Able to withstand both cold and humid environments, our corrugated plastic totes will protect your products from impact, leaks and moisture. You can stack, store, push, pull or ship, and your products will remain secure and protected.
Corrugated plastic totes are an excellent option if you're looking for container options in your industrial facility. In recent years, more and more manufacturers have replaced their containers and corrugated paper boxes with corrugated plastic totes for their storage and handling needs, as they are more cost-effective and durable than other options.
Ready To Get Started?
At MDI, we value providing customers with an experience that they can count on. We have helped many businesses, from carriers to large manufacturers, cut costs, save space, and increase efficiency with our corrugated plastic totes.
Our customers rely on high quality bins and totes to keep their operating running smoothly. We know this and are constantly trying to make sure that our customers get the tools they need to be successful. Higher efficiency in your systems means fewer hazards, productivity lag, and consistent end-to-end product delivery.
If you are interested in working with us, contact us through email or phone or request a quote that will quickly keep your business moving forward. We will help you get the totes and bins you need to keep your business going and growing.
Cost-effective Replacement for Cardboard
MDI's corrugated containers offer a cost-effective replacement for cardboard, fiberboard, molded plastic and other substrates. Our totes are 100% recyclable and reusable, which means you save more and waste less when you choose our products.
Cost-effectiveness and durability are just a few reasons why Minnesota Diversified Industries (MDI) corrugated plastic totes and bins are the right choice for your storage, handling, production, and processing needs.
We design corrugated plastic tote boxes that can be customized for your business needs. Each is sonically welded at key stress points to ensure they can handle heavy use repeatedly before replacement.
Corrugated Plastic Totes for Your Industrial Needs
You need a reliable supplier with experience serving a variety of industries. MDI provides several standard corrugated plastic totes and can customize them for your unique operating specifications. With a tightly managed supply chain, state-of-the-art manufacturing equipment, and expert staff, MDI can provide your local business with a range of plastic packaging solutions.
Our totes are designed with wrapped hand holes for ergonomic handling, as well as wire-handled totes. But whether you're looking for conventional corrugated plastic tote boxes or unique ones, MDI is ready, willing, and able to meet your industrial tote and bin needs.