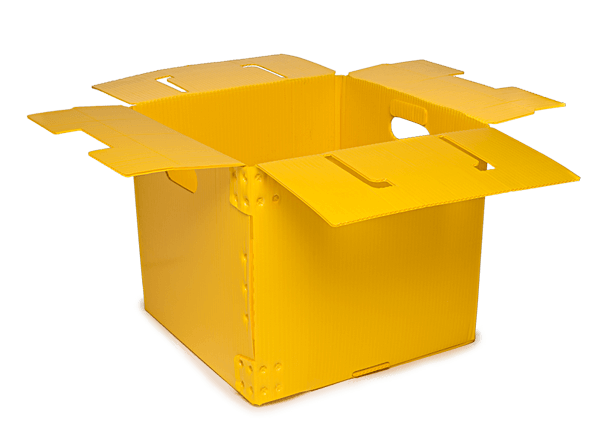 The truth is cardboard boxes can't handle the pressure of shipping products to multiple locations. They tear, leak and expose goods to moisture, dust and chemicals that can easily damage your inventory and hinder production. 
MDI's corrugated plastic boxes offer a durable, reusable solution that saves you time, money and resources. Ditch the cardboard for good.
Long-Term Durability
Made of high-quality polypropylene or polyethylene, our portfolio of corrugated boxes range in thickness from 3mm to 4mm for better protection when storing, stacking, handling or transporting goods to a new facility.
Reusable Solutions for the Road Ahead
Our products are reusable and 100% recyclable, which means you save more and waste less. Unlike cardboard, MDI's corrugated boxes are water and chemical resistant, fiber and dust free and lightweight, making them easy to handle and transport anywhere.
Plastics with Purpose
Every product we manufacture helps support our mission to provide job opportunities for people with disabilities. When you partner with MDI, you're getting more than corrugated plastic boxes; you're helping us make a bigger impact on our community by giving our employees job sustainability. 
Features and Applications
Product Features
Regular slotted containers (RSC)

Half slotted containers (HSC)

Roll-end lock front containers (RELF)

Available in 3mm and 4mm
Applications
Distribution and shipping

Manufacturing and production

Packaging and conveyor systems

Retail

Shelving, storage and processing containers
Add-On Options
Placards

Scanner labels

Graphics
Closure Styles
Standard top and bottom 

L-lock top

Tuck top and tab

Auto lock bottom 

Velcro
Browse Our Standard Corrugated Boxes
For added durability, some boxes are sonic welded at the seams. Our standard corrugated boxes are available in multiple colors (i.e., red, yellow, green, blue, black, white, gray and neutral) to improve storage and identification in warehouse, office and retail environments.
2513

Featuring an L-lock top and built-in hand holes for easy transport, our standard auto lock bottom RSC box keeps items secure for distribution and shipping.

Straightwall Outside Dimension:

20 x 14 x 10

in

2519

Easy to assemble, chemical resistance and durable, this option includes a roll-end lock front (RELF) design with dust flaps. Velcro closures included.

2539

Discover the ultimate packaging solution for distribution, manufacturing and retail. Features a L-lock top and auto lock bottom.

Straightwall Outside Dimension:

16 x 12 x 12

in

2554

This deep, straight wall corrugated plastic container is perfect for large, heavy materials and warehouse storage.

Straightwall Outside Dimension:

14 x 14 x 14

in

2563

Need to protect essential documents? This corrugated plastic box with hand holes offers a straight wall design with a large, deep opening for versatile storage.

Straightwall Outside Dimension:

19.5 x 13.5 x 13.5

in

2588

Need help storing important documents, company mail and records? Our standard file box is lightweight, easy to stack and carry. Includes detached lid.

Straightwall Outside Dimension:

16 x 12 x 10

in

2620

Transport heavy materials with more ease. This container includes a straight wall design and sonic welded wrap tabs seams for added durability.

Straightwall Outside Dimension:

21.75 x 14 x 15.875

in

2622

Discover where simplicity meets durability! This standard design allows you to carry, distribute and deliver products with added protection.

Straightwall Outside Dimension:

12 x 12 x 12

in

2636

Skip the tape and scissors routine with this corrugated solution that features an L-lock top and auto lock bottom for better protection.

Straightwall Outside Dimension:

18 x 18 x 16

in

2671

Portable file storage box with organizer lid. Corrugated structure and handles are sturdy and great for stacking. Ideal for letter or legal sized documents. Perfect when moving.