Harvest Totes Made From Corrugated Plastic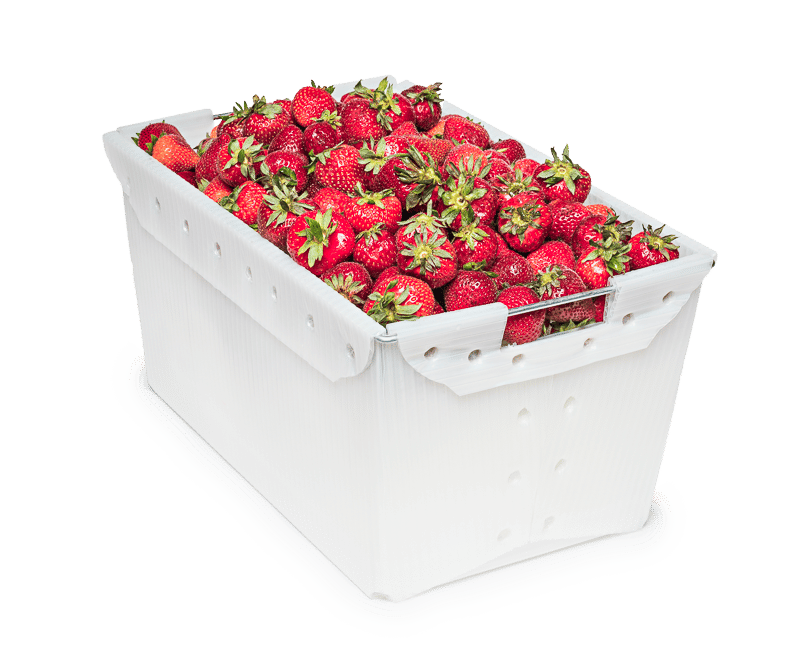 Corrugated plastic boxes are frequently used in various facets of production, such as in industrial plants, warehouses, retail stores, post offices, wholesalers, and distribution centers. MDI's corrugated plastic totes offer the most favorable carrying capacities. On top of that, these corrugated plastic boxes offer you the convenience you need for your agricultural products.
There are endless opportunities and reasons why you should be using harvest totes made from corrugated plastic. Unlike cardboard, fibreboard, molded plastics, and other substrates, MDI's corrugated plastic totes are outstanding due to their unique features that include:
Features and Applications
Product Features
Water, chemical, and impact resistant
Durable in both cold and humid environments
Dust and fiber-free
FDA-compliant
Lightweight design lowers transportation costs
Easy handling
100% recyclable
Applications
Picking trays
Produce carriers
Produce stacking and nesting
Fruit harvesting
Vegetable harvesting
Vegetable Harvesting Totes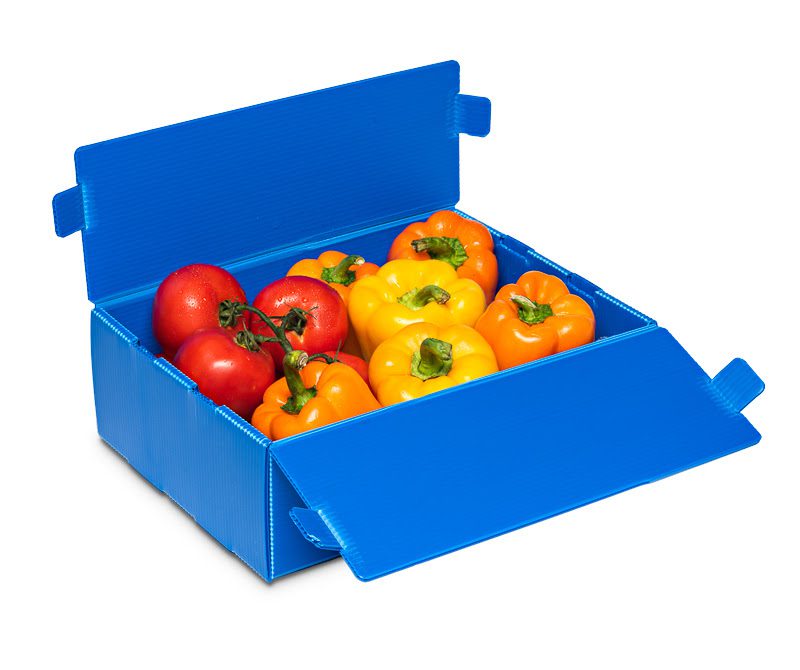 It's no secret that vegetables are highly perishable products. There's no excuse for not using the best totes for your harvesting – it helps minimize losses that might occur when harvesting vegetables.
Consequently, using vegetable harvesting totes is not only one of the most popular solutions but also highly recommended. Investing in these totes guarantees maximum efficiency and value for your vegetables. MDI's vegetable harvesting totes bring you several unique benefits, including:
Our containers are 100% recyclable and reusable – you don't need frequent purchases for our vegetable harvesting totes.
The interiors of these totes are easy to clean.
Customization and identification of these totes are much easier due to the available options.
You can stack them when loaded or nest if empty for space and storage efficiency.
They store the harvested vegetables for a long time without getting stale. Notably, these totes ensure a temperature of about -20 to 120 F.
These totes comply with the FDA requirements to withstand exposure to sunlight and observe cooling processes. For example, these vegetable harvesting totes resist impact and moisture. Plus, they won't splinter, rot, or absorb any odors that might interfere with your vegetables.
MDI's vegetable harvesting totes are highly durable and the best choice for packaging products in the vegetable-wide industry. For instance, the products can last longer than expected in a vented plastic crate. On top of that, they improve quality and are also environmentally friendly, unlike the traditional vegetable totes. What makes them unique is that they are designed to offer direct contact with the vegetable without them going stale quickly.
Fruit Harvesting Totes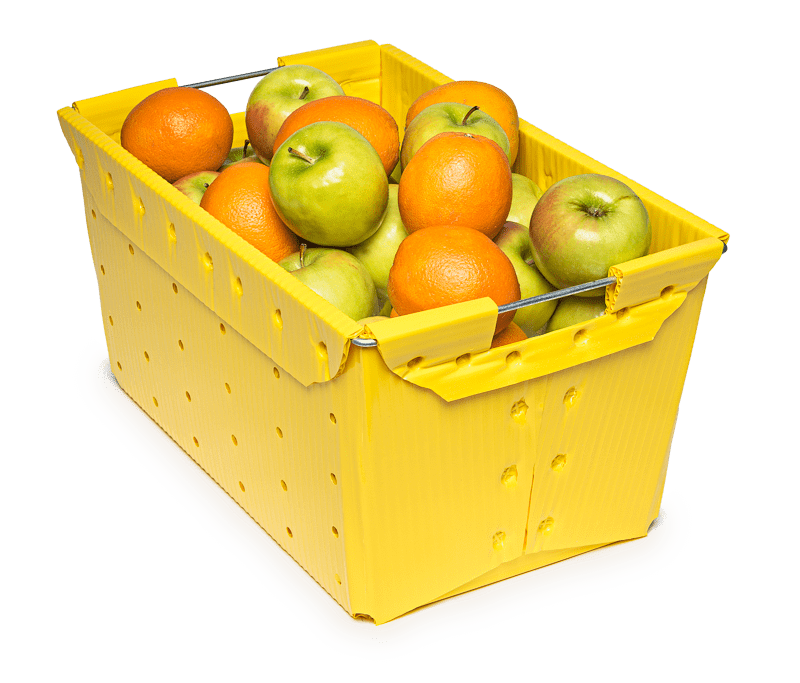 Do your fruits go bad or get destroyed during harvest? Like vegetables, fruit products are also perishable. Plus, if they are mishandled or deformed, you risk paying for a hefty loss. MDI's fruit harvesting totes can offer a reliable solution to your orchard.
When you employ MDI's fruit harvesting totes, you will enjoy attractive benefits and experiences, unlike when using ordinary crates. But why consider MDI's corrugated plastic boxes for your fruit harvest? Below are some notable reasons:
MDI's corrugated fruit harvesting totes comply with the Food and Drug Administration requirements 100%, which ensures that your fruits are safe no matter the conditions. Our products can withstand exposure to sunlight as they have cooling features. Also, they have fortifications against moisture and dust. Besides that, they don't rot or absorb odors due to their corrugated nature.
Our fruit harvesting totes are 100% reusable; thus, they help you save more and maximize your returns.
Your fruits will remain fresh for longer periods. You shouldn't worry anymore; our totes are designed to provide easy drainage, cooling, and temperature controls. Regardless of your location, they offer desirable temperatures ranging from -20 to 120F.
If you constantly find it hard to maximize your space to store more products, MDI's corrugated containers can stack on each other and nest when empty. Moreover, it is easier to clean the interior of our products.
Browse Our Fruit and Vegetable Harvesting Totes
Durable and Reusable Plastic Harvest Totes
As an agricultural farm or orchard manager, you need durable and reusable harvest totes. On the other hand, comparability is essential to minimize costs in your business so you can get maximum returns, which is crucial for your success. All businesses require durable or long-lasting packaging, after all. So, what exactly is the durability capability of MDI's totes?
As a primary focus, we provide you with quality harvesting totes that assure top-class treatment for your products. These containers are made of heavy-duty corrugated plastic; this material enables our harvest totes to withstand the normal tear and wear associated with normal transportation and harvesting exercises. Our harvesting totes are made in a design that makes them stackable and nestable at 180 degrees turns. This feature minimizes the likelihood of damage to our harvesting totes; hence, you can expect minimal to no replacements in your agricultural operations.
Besides durability, in your orchard, it's also essential to consider the number of tasks your harvesting totes can cover in a case where one or two of your facilities can't operate normally. These totes are naturally versatile and come in different sizes, colors, and options. However, you can buy them according to your requirements – whether for durability or recycling purposes (or both). And unlike traditional wood-based packaging, MDI's harvesting totes are a trusted option for many agricultural enterprises for many reasons. Our products only need regular cleaning for better use and exceptional results. Also, unlike wood-based harvesting totes, our corrugated plastic products don't splinter or absorb odors or moisture, which means you can re-use them without destroying your fruits or vegetables. Basically, you save more when you invest in our harvesting totes.