Material Handling Totes and Bins
Since 1964, MDI has produced quality material handling totes and bins made of corrugated plastic products that help operations run more smoothly and effectively.
Our corrugated plastic material handling bins exist in a range of different sizes, styles, and colors. Each one is specifically designed to assist with specific tasks around the workplace.
Our state-of-the-art products are especially effective when creating systems of organization that help maintain order in warehouses, factories, and other industrial settings. All of MDI's material handling totes and bins have a specific goal of balancing the workflow.
Some popular MDI material handling totes include:
These material handling totes represent a small selection of the various options available through MDI. Designing material handling bins and totes to serve specific industries is what we pride ourselves in here at MDI.
---
Plastic Totes for Material Handlings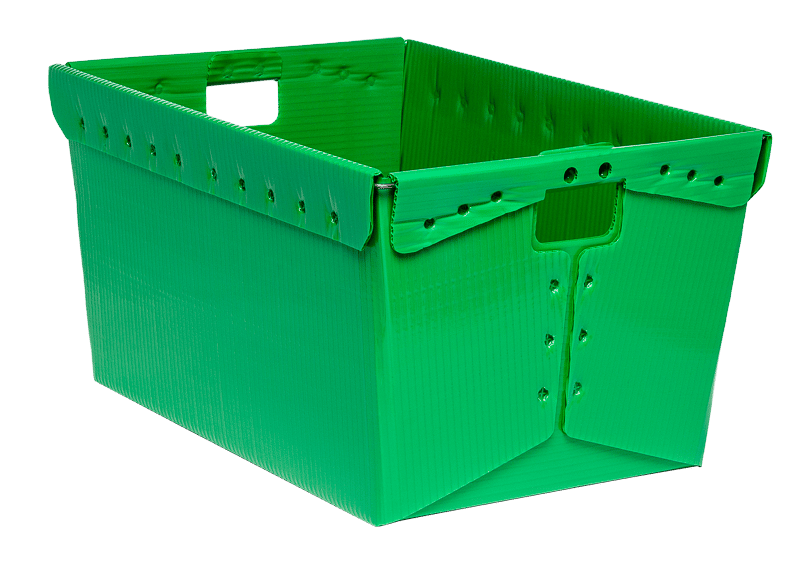 MDI corrugated plastic material handling totes are the perfect addition to any warehouse, factory, or other industrial setting. Since each tote carries a specific purpose, it's easy to find a tote that perfectly fits the needs of a particular industry. No matter the market, MDI has material handling totes to fill the gap.
Material handling is made more accessible with conveyor totes from us. No matter the size or material, MDI has material handling bins guaranteed to make handling more accessible and safer.
With material handling totes like 1448, small or medium-sized materials are easily moved across assembly lines. Conversely, tote 1500 is a 25-gallon tote perfect for handling and storing large materials.
Plastic Bins for Material Handling
An essential part of the material handling process is sorting and storing different parts and smaller products. MDI serves this material handling element critically by providing a line of material handling bins known as hopper bins to make the process that much easier.
Our material handling bins come in various sizes, customizable to a customer's specific needs. Instead of trying to give a one-size-fits-all solution, we work with each customer to create the perfect storage option through customizable hopper bins.
MDI's material handling hopper bins vary in size, color, construction, and closure options. They are intended for stacking, which makes their storage even more effortless. With a custom product builder, customers can create their ideal hopper bin selection that they know will fit their needs and storage space.
Plastic Trays for Material Handling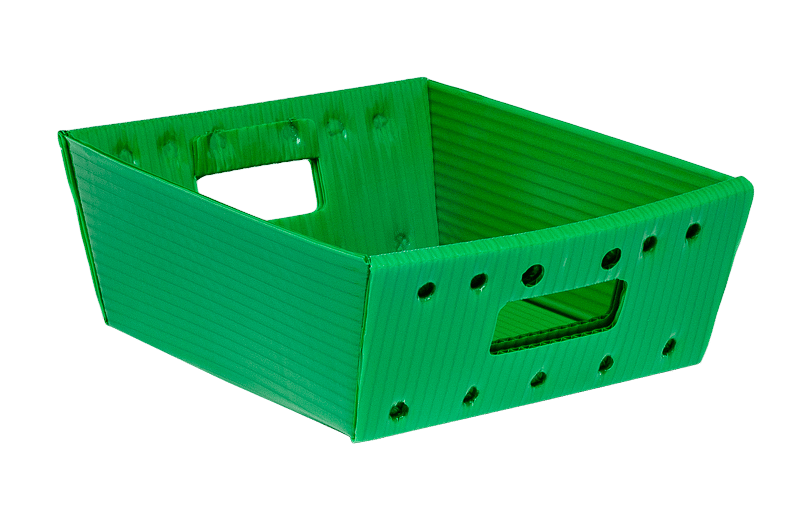 Corrugated plastic material handling trays are a critical part of any material handling operation. Depending on a customer's industry and design, MDI can provide a plastic tray to get the job done. MDI offers corrugated plastic material handling bins that fit specific needs with varying dimensions available.
Material handling trays are helpful in a few key ways. They provide essential storage options, and they assist in the sorting and transportation of various materials. MDI's material handling trays are particularly effective, designed for industrial use, and have a long life span. Customers who want to avoid routinely replacing their corrugated plastic material handling totes will be happy with the material handling trays from MDI.
Why Choose Corrugated Plastic Material Handling Totes for Your Operations?
Corrugated plastics are durable, long-lasting, and highly sustainable. Containers of corrugated plastic offer a higher strength-to-weight ratio than other storage options. When it comes to material handling bins, your best bet is to use corrugated plastic material handling totes and bins.
Corrugated plastics also provide greater protection from moisture and chemicals. Because we pay careful attention to reinforcing conveyor totes and bins, you don't have to worry about leaks, cracks, or other issues arising from these products in the workplace.
Made from Durable and Reusable Polyethylene
The durability of corrugated plastic comes from using polyethylene, the primary polymer component in most plastics. Polyethylene provides stability and strength to corrugated plastics.
Polyethylene is also highly cost-effective and reusable. Corrugated plastic material handling bins will last longer with greater performance than other disposable options.
Cost-Effective
Storage costs can quickly pile up if you aren't careful about how you spend your resources. Making the most of material handling bins and conveyor totes is one of the best ways to cut costs and manage expenses.
Reusable material handling totes and bins will stand up to the test of time, no matter what use you find for them. Since our team designs material handling totes that cater to different industries, customers can easily find something that's built to last for their specific needs.
Lightweight
Corrugated plastics are lighter than most alternatives, especially cardboard boxes. MDI corrugated plastic material handling totes are incredibly lightweight compared to the other options you might consider.
Having lightweight yet sturdy options for material handling and storage is critical for any industry, primarily manufacturers and warehouse workers.
Recyclable
One of the proudest features of MDI material handling totes is that they are 100% recyclable. We take great pride in creating products that are easy to use and highly sustainable. These material handling bins can withstand the wear and tear of an industrial setting and are easy to dispose of when the time comes.
Request a Quote
Partner With MDI
If you need material handling totes that are dependable, durable, and cost-effective, then you've come to the right place. Get in touch with an MDI representative today to learn more about how we can make your job easier. With sturdy, lightweight corrugated plastic material handling totes and bins from MDI, material handling and storage have never been.
Employee Testimonials
Jeremiah Specht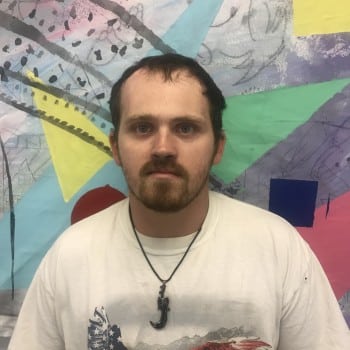 Jeremiah Specht
"MDI has given me the chance to build my skills to make me a better employee. It's important to teach new employees the rules so they can grow their skills, too."
Edna Munoz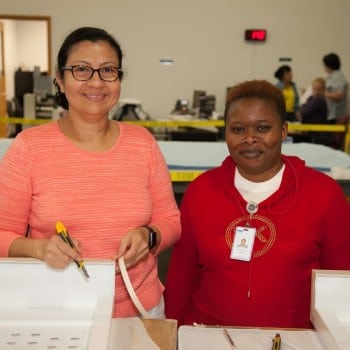 Edna Munoz
"I've noticed diverse teams perform better. The most successful teams we've had draw from varied backgrounds and life experiences."
Ed Nardone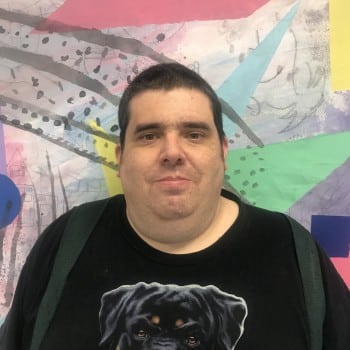 Ed Nardone
"MDI supports me when I have a problem; there's always someone to help me work through that problem."