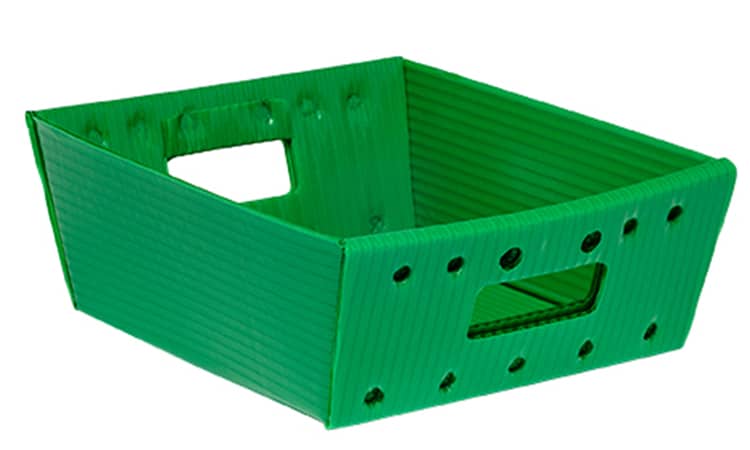 When you're in charge of procurement or operations, it's up to you to ensure that you have the products on hand to make your industrial or packaging company run more smoothly. Corrugated plastic trays can provide storage or other essential uses for your business. However, you need to invest in quality plastic trays, so you don't need to constantly replace them.
At MDI, our plastic trays for industrial use are made to last and tough enough to stand up to your company's usage. You can choose one of our standard sizes, or we can custom make the plastic trays you need. When quality counts, you can rely on the trays we produce.
High-Quality Corrugated Plastic Trays
You want your industrial plastic trays to offer the same high quality as the products that you make. When you invest in plastic trays from MDI, you'll find the product features you need and help our corrugated plastic trays stand out from other available products. Our most popular features include:
Resistant to impacts, chemicals, and water
Reusable
100 percent recyclable
Offer durability in humid and cold environments
Enjoy easier handling and lower costs for transportation with these lightweight plastic trays
Dust and fiber-free
We take pride in the product we produce, so your business can enjoy the benefits of a high-quality product that stands up to an industrial environment.
Bulk Corrugated
Plastic Trays
When you need industrial plastic trays, you may need enough to fit your organizational needs. At MDI, we're ready to fill your bulk order of corrugated plastic trays. We don't shy away from bulk orders, and we can provide you with the high-quality plastic trays that you need to keep your business running smoothly.
You have tried to place a bulk order for plastic trays in the past and found that the supplier took too long to deliver them or sent them in small groups, creating delays for your industrial business. It's a hassle. Our team is ready to get your bulk order of plastic trays to you when you need them. We work on your schedule as well as our own.
Custom Corrugated
Plastic Trays
Sometimes, your business needs plastic trays for industrial use that don't fit the standard sizes. Sometimes, you need a plastic tray that's taller so items can't get loose or one that's longer or wider to meet your company's specific needs. At MDI, we take pride in being able to manufacture the custom sizes of corrugated plastic trays that you need to make your business run more smoothly.
From dimensions to colors, our team can provide you with the custom trays you want. With your required dimensions and specifications, you can request a quote and place an order for exactly what you want. MDI manufacturers your custom trays with the same high quality as all of our products.
Small Corrugated Plastic Trays
There are times when a business needs small plastic trays for industrial use, but they aren't sure where to get the sizes that they need. MDI can help you get the exact size you need to hold your products or work with your assembly lines. When you opt to use our custom services, we can create small plastic trays that meet your company's needs. No matter the size, all of our plastic trays meet our exacting standards, so you can rely on their quality, durability, and longevity.
Large Corrugated Plastic Trays
If you've been searching for large industrial plastic trays, and you can't seem to find ones that are large enough or in the correct configuration, you don't need to give up your search. MDI can custom make the large plastic trays that you need to run your industrial business. If you're worried that making a larger plastic tray might weaken the structure, rest assured that our team ensures the high quality and strength of each sized tray, including our custom products. You can get the size you need with the exact dimensions you want when you decide to use our custom options.
Corrugated Plastic Trays With Handles
When your workers need to carry the plastic trays for industrial use from one workspace to another, it's always easier if the tray has handles, especially if there are fragile items being carried. Are you having issues finding the right size and configuration of a plastic tray that comes with the handles you need? At MDI, many of our corrugated plastic trays come with handles, regardless of size. When we manufacture your custom trays with handles, we make sure that every inch is sturdy and durable, so you don't have any issues with the handles separating or becoming a weak point.
Plastic Trays for Industrial Use
Plastic trays for industrial use need to be up for almost anything. They require extra durability and high-quality materials to ensure that they stand up to this high-demand environment. MDI makes plastic trays that last a long time and can be used for a variety of tasks within your company and industrial location. From trays to sort and carry mail to ones that help you sort and store materials, our line of plastic trays is up to the task of everyday use in your industrial company. We have all the sizes you need, or we can create a custom size that meets your specifications.
Plastic Trays for Material Handling
When you run a company that does manufacturing or a factory that puts products together, you can benefit from using plastic trays for industrial use. These trays can move easily down an assembly line or be used to store parts until you need them. You can also use these plastic trays to store finished items until you're ready to package the items or box them up for shipping. At MDI, our trays come in a variety of sizes and configurations to meet your needs, and if you don't find what you want, we can custom make them. You can also order in bulk for a larger operation.
Plastic Mail Trays
If your company mails out its product or handles the mail for a large university or office building, you're going to need industrial plastic trays for sorting mail or carrying packages from one location to another. While your company uses trays without handles for sorting, your business would definitely benefit from plastic trays with tough, durable handles when carrying mail around your facility or to other departments and locations. Our high-quality trays are designed for frequent use and can remain tough when filled with heavy packages. When you order our trays in bulk, you can keep all the ones you need ready for the daily mail.
Plastic Trays for Warehouse and Distribution Centers
A warehouse and distribution center is responsible for storing and shipping items, which means products in your warehouse or center are constantly in motion, and industrial plastic trays make it easier to corral almost any type of item. You can select plastic trays that can flow easily on your conveyor belts or fit onto carts in your warehouse. You'll enjoy the durability and high quality of the MDI corrugated plastic trays. When you need plastic trays, MDI is the source you should check out first.