MDI Trays Are Lightweight and Designed to Last
Industrial, manufacturing, and packaging companies depend on smooth and fast operations. Efficiency is the key to keeping your workers and product moving. Corrugated plastic conveyor trays are an investment that will benefit your business over and over.
MDI makes trays for all sorts of industrial settings. They are lightweight and designed to last. Whether you need inexpensive and dependable storage or a way to move material quickly, we have a product to help.
What Is Secondary Packaging?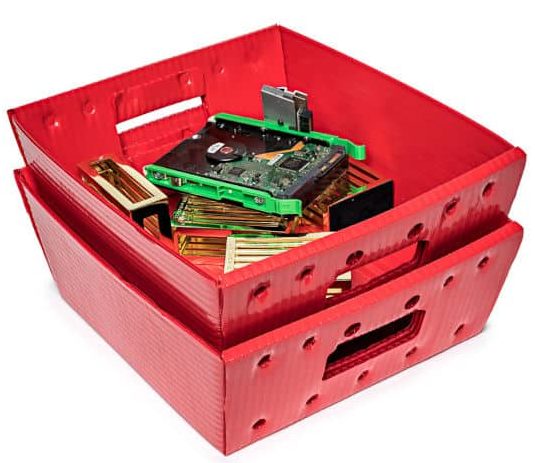 High-Quality Conveyor Trays
Plastic conveyor trays have to be able to stand up to everyday use. They must withstand your products as you transport them locally or internationally without worrying that they will give out under pressure. We are as proud of our corrugated plastic trays as you are of your product.
Trays from MDI are resistant to water and continuous impacts.
They are reusable, and when you replace them, they are 100 percent recyclable.
Our trays are lightweight, easy to maneuver, and stackable.
Plastic conveyor trays seem like something that is an afterthought. If you get the wrong ones and have to replace them constantly, you will see how valuable quality is. Our trays are built for industrial use, ensuring you can rely on them for a long time.
Custom Corrugated Plastic Trays
Your products are unique to your business. At MDI, we do not expect every company to work the same. That is why we offer custom-designed packing solutions.
If you need different colors of conveyor belt trays for various departments of your facility, we have multiple ones to choose from. There are long, flat trays for carrying mail or paper. We also have larger, deeper trays for moving bigger items.
Plastic Conveyor Trays With Handles
Ergonomics is part of industrial work. Reducing the likelihood of back strains and repetitive motion injuries can create a happier, healthier workforce. While creating more opportunities for retention, fewer injuries can prolong a person's working life, which can keep them financially secure.
MDI can help you be sure your employees have the tools to make the right movements. Our corrugated plastic conveyor trays can be built with handles, making it easier to lift and carry material. Along with proper ergonomic training, that can be a long-term benefit for your company.
Conveyor Trays for Industrial Use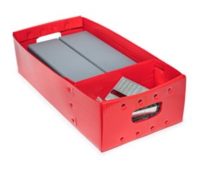 Regardless of how big or small your orders are, you must keep the material moving to get them filled. Industrial conveyor lines move much quicker with containers to put material in before moving it down the line. That helps when pulling things off the line, properly stacking them, and preparing them for shipping.
Conveyor Trays for Manufacturing and Material Handling
Material handlers in the manufacturing industry need to move products easily and store them. MDI creates corrugated plastic totes ranging in size to help assist you. The conveyor belt trays will hold up to multiple handlings, and they are easily stackable for clean storage.
MDI makes totes for specific purposes. Regardless of what size your product is, we have a container that will fit. We have small containers for items as small as nuts and bolts, or large ones for containers up to 25 gallons. The perfect solution for your company is here.
Conveyor Trays for Warehouse and Distribution Centers
Containers used in distribution have to hold up. They get used constantly with your material being put on them quickly and getting pushed down an assembly line. MDI makes totes and bins that are heavy-duty and reinforced.
MDI Provides Quality Conveyor Trays
Saving time is important as well. Unnecessary motions can be a death knell for productivity. Storing material in the same conveyor belt trays they get moved in is a time-saver and one that will help keep your product moving out the door.