Plastic Laboratory Storage Solutions
As one of the top manufacturers of corrugated plastic, MDI is a trusted provider of laboratory storage solutions, including totes, hopper bins, sample dividers, and much more. We have a variety of top-quality storage bins that can be used in your laboratory to improve organization and enhance material safety.
Our assortment of corrugated plastic dividable lab storage containers are completely customizable to your needs, which opens the door for improved efficiency and productivity in your laboratory. If you want to improve workflow and speed up projects, the impeccable laboratory storage solutions from MDI may be the answer.
Our Laboratory Container Features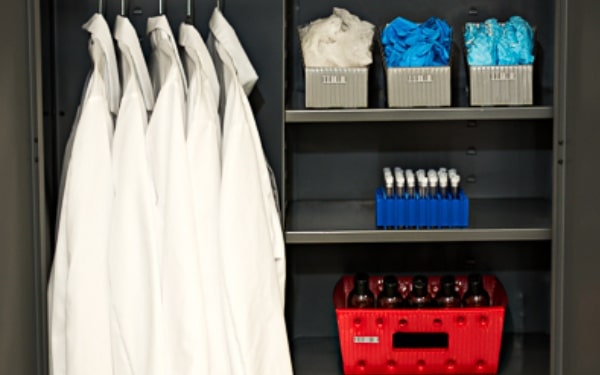 MDI's lab storage containers have impeccable features to perfectly preserve your materials. Our clean packaging solutions are hygienic, making our lab storage containers suitable for medical and scientific use.
Each of our lab storage containers uses corrugated plastic, an impressive and durable material offering many benefits. This type of plastic provides a natural cushion for shock absorption and is easy to wipe clean. They are also durable enough to resist harsh chemical spills and drastic temperatures.
Our plastic lab storage containers will not release particles and you can customize them in many ways, such as color. Aside from choosing your preferred color, our lab sample containers can also be designed with a variety of features that you can select. These include, but are not limited to:
Dividers
Handles
UPCs
Placards
Printing
Velcro
And more
Laboratory Storage Bins
MDI's plastic hopper bins are excellent for laboratories, making it easy to store and sort your lab's supplies and products. The design is ideal for stacking, making our containers perfect for saving space and enhancing organization. With low fronts and durable plastic nomenclature, our bins are long-lasting and easy to use in a busy lab environment.
These bins can be customized, like choosing the color, size, and a variety of more important features. No matter what products or parts you need to keep organized, these plastic hopper bins are the ideal solution.
Our lab storage containers are ideal for lab storage because they are lightweight and resilient. They're easy to maneuver and lift when searching for something, but you won't need to search thanks to the clear labels we provide.
Laboratory Totes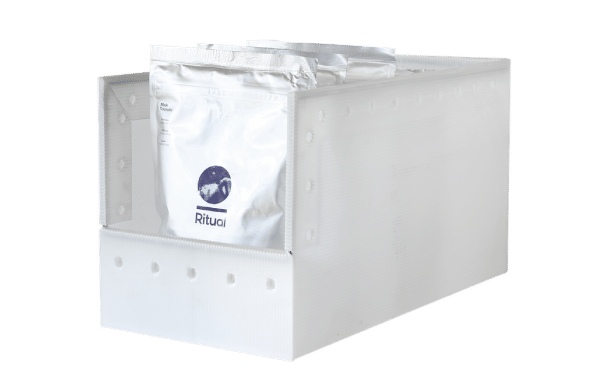 Our line of totes for use in a laboratory have premium functionality and are easy to use. They are durable, but designed to make them easy to clean and carry. Each tote can come equipped with lids and custom dividers, so you can design your lab totes to suit your needs.
Our totes are a reliable and reusable storage solution. The corrugated plastic material is the perfect option for lab storage containers because particles will not disperse, and can endure chemical spills. The size and shape options in this line of lab totes are extensive, with more than 25 different designs.
Low-Temperature Laboratory Storage
Our plastic lab storage containers and bins are excellent for low-temperature storage. You must store some lab materials at low temperatures to preserve materials. Using improper low-temperature storage can result in the loss of materials, which can halt or even ruin projects.
Many samples or compounds need to remain at a stable temperature for adequate testing, so MDI makes top-quality, low-temperature lab sample containers to ensure lab work can run smoothly.
Custom Lab Workstation and Bench Hopper Bins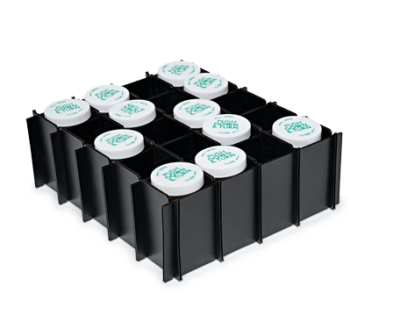 While MDI has a brilliant range of size and shape options, you can also order customized bins and hoppers. Every lab operates differently, so not all dividers and lab sample container designs will work. However, we allow you to request specific colors, dividers, shapes, sizes, and more, so you can have the perfect storage hopper bin for your laboratory.
These custom bins can serve as a lab bench organizer or workstation bin, allowing each worker to keep everything in order. When laboratory storage is messy and disorganized, mistakes happen, and disasters can occur.
The last thing you want is a misplaced tool or sample. MDI's custom lab workstation and bench hopper bins help keep projects on track and create a better work environment conducive to productivity and success.
Custom Sample Handling Solutions
We can create a custom dividable container for sample handling. You can customize our lab sample containers to be certain sizes or have a specific number of dividers. Depending on the sample sizes you work with, you can also request larger or smaller dividers.
Lab samples are of the utmost importance when working on a project, and the best way to care for those samples is with proper storage solutions. Our lab sample containers make it easy to store specimens at different temperatures, organize them, and complete projects efficiently.
A lost or ruined sample delays projects and productivity, so a quality lab storage container can change everything.
Contact Us For A Quote
Using our brilliant bins and storage solutions can help you improve productivity and enhance workflow. If you want to increase your lab shelf storage and create a laboratory storage environment conducive to completing projects, contact MDI for a quote today.