By Dee DePass, StarTribune, October 27, 2023
Bremer Bank, Andersen Windows, Metro Transit, MHealth Fairview, HyVee, Minneapolis Police and others participated in what is believed to be the first Autism Job Fair in Minnesota. 
Sheletta Brundidge took action when she felt the state wasn't doing enough to support National Disability Employment Month.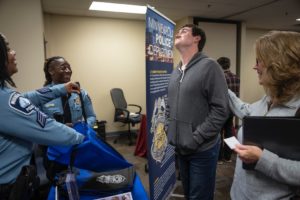 The local radio personality and autism activist whose three youngest children have the disorder felt she could do more to help, considering the unemployment rate for people with disabilities is about twice that of the general population, according to the Autism Society.
"Proclamations are not going to help them. Somebody has to do something," said Brundidge, who started by calling the sponsors of her podcast network, Sheletta Makes Me Laugh.
On Thursday, that work came to fruition as Bremer Bank, Andersen Windows, Metro Transit, M Health Fairview, HyVee, Minneapolis Police Department and others conducted scores of job interviews in St. Paul at what is believed to be the first Autism Job Fair in Minnesota. Autism spectrum disorder is a developmental disability that affects behaviors, communication, social interaction and learning. (PHOTO: RENÉE JONES SCHNEIDER, STAR TRIBUNE)
Lines flowed out into the hallway as state job counselors reviewed resumes and gave interview tips before job candidates met with recruiters inside the State Services For the Blind building.
Mark Malmberg, marketing manager for the Autism Society of Minnesota (AuSM), said the job fair was badly needed. Some unemployment estimates for those with autism run as high as 80%, and those who do find jobs after vocational training are often only able to score part-time work paying $160 a week, Malmberg said.
That needs to change, Brundidge told fair attendee Alicia Duerkop and Duerkop's boyfriend's son Tyler Tinucci, 21, as they waited to talk to Andersen recruiters Thursday. Doctors diagnosed Tinucci with autism at age 2, and he now works nights and weekends at a pizza parlor in Cottage Grove, making around $11 an hour. Andersen pays $21.50 an hour for customer service reps.
That piqued Tyler's interest and delighted Brundidge, who stopped to greet, talk and take photos with Tinucci.
"You know, these [adults] are looking for work, and they are hard workers. But when they go into interviews, there are barriers," Brundidge said. "They may not give you eye contact. They may not give you a firm handshake. They may fidget, and they may want to do the interview virtually, but it doesn't mean they can't stack … groceries."
A problem to solve
M Health Fairview officials were determined to participate.
"This is the first [autism job fair] I've ever heard of," said Jim Platten, job navigator and workforce development specialist for M Health Fairview. "Folks with autism and developmental disabilities deserve a chance. We should talk to them. See what opportunities are out there. And see how we can best work with them."
Metro Transit was also at the job fair "and does seek to hire more mechanic/technician roles," said spokesman John Komarek. Bus and train mechanic technician jobs start at $30.54 an hour with a $4,000 hiring bonus, he said.
Mary Haugen, a spokeswoman with the Department of Employment and Economic Development (DEED), noted Minnesota's unemployment rate is just 3.1%, causing many employers to complain they can't find workers. As workforce shortages abound, "the state really needs to be inclusive and tap into populations that have historically been overlooked," Haugen said.
New research shows 1 in 34 young Minnesotans have autism spectrum disorder, so it is imperative they are prepared for the workplace, said AuSM's Malmberg. AuSM is surveying people with autism about their employment successes and obstacles in an effort to bridge the gap between employers and potential workers on the spectrum.
Autism is a wide-ranging neurological disorder. Those on one end of the "autism spectrum" might not be able to speak, make eye contact or tolerate crowds, sudden change or noise. But others can be high functioning with superior skills in technology, math, pattern recognition, puzzles and code deciphering as well as the ability to handle repetitive tasks.
Such skill sets are attractive to Metro Transit, the IT department at Bremer Bank and countless others, Brundidge said.
But Joan Marie Verba said challenges persist.
"I am on the spectrum. I have applied to more than 800 positions and have the spreadsheets to prove it," said the freelance IT programmer who graduated from two coding boot camps and still can't find full-time work.
She once was let go from a job not because of her coding work but because she didn't greet people, make eye contact "or do the other things neurotypical people" expected her to do, she said.
That's a missed opportunity, said Eric Black.
"While these individuals experience challenges that are often visible to the average employer, more often than not, their engagement, [creativity] and productivity exceed expectations," said Black, the chief executive of Minnesota Diversified Industries (MDI), which has 400 employees, including 240 disabled workers, making corrugated plastics and performing packaging, kitting and assembly services.
"Individuals who have a developmental disability, including autism, are incredibly important to our workforce," Black said, noting some just need support or accommodations that often don't cost much.
Making accommodations
At MDI, employees with autism use a daily "flight plan" itinerary that maps their workday in detail, introduces few changes and lets the individual work uninterrupted. MDI also uses noise-cancelling headphones and trains production leaders on how to work with and support employees on the spectrum.
A recent DEED survey found 54% of employers provided some type of accommodation to employees with disabilities. Half of those accommodations cost fewer than $1,000 per worker.
To help smaller employers consider hiring more autistic and other disabled job seekers, DEED just launched a $4 million Employer Reasonable Accommodation Fund. It reimburses companies up to $30,000 for equipment and other costs tied to helping disabled workers succeed on the job.
A program coordinator also offers employers free help finding needed equipment and counseling on how to comply with the Americans with Disabilities Act.
Natasha Jerde, director of DEED's State Services for the Blind said she hopes the pilot fund "encourages employment of people with disabilities by reducing any perceived or real financial barriers."
"Individuals who are neurodivergent may have reasonable [work] accommodation needs, such as noise-canceling headphones, specialty lighting, white noise machines and even job coaching," Jerde said, adding those might all be reimbursable through the program.
To ensure the Autism Job Fair went smoothly, Brundidge introduced some accommodations of her own. She kept the fair small with fewer than 10 employers so as not to overwhelm job seekers. Two breakout rooms provided quiet space, and a third served as the "fidget room" with gadgets and plenty of space to spin, flap arms or make other stimulating motions.
Many people with autism "just have all this pent-up energy, and they have to do something with it," Brundidge said. "… It's like a calming-down type of thing."