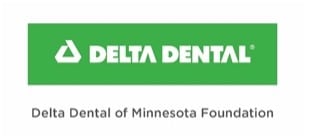 Delta Dental of Minnesota Foundation Kicks Off Smiles@School Program
MINNEAPOLIS (March, 2023) Delta Dental of Minnesota Foundation today kicked off its Smiles@School program, which will provide more than 40,000 oral health backpacks and tools to first-graders across the state this week.
Each backpack contains critical oral health resources: a toothbrush, fluoridated toothpaste, an oral health educational booklet, and more. The Foundation is also providing an educational video to teachers on the importance of oral health featuring Dr. Eileen Crespo, a practicing pediatrician and Vice President of Medical Services at Delta Dental of Minnesota and Dr. Nina Prabhu, a licensed dentist.
"Establishing a strong oral health routine and healthy habits early is critical to preventive dental care for children and can set the stage for a lifetime of good oral and overall health," said Dr. Crespo. "With the right information and tools, parents and caregivers can start their kids off on the right track for a healthy life and a healthy smile!"
Preventive dental care.  Optimal oral health starting in childhood and continuing in adulthood has been associated with decreased risk of cardiovascular disease, stroke and other negative health outcomes. Children with good oral health are more likely to succeed in school, as well. Dental related illnesses cost students more than 51 million lost school hours each year in America, significantly affecting academic performance, overall educational outcomes and even success in landing a job in adulthood. Tooth decay and oral disease can also cause serious pain, affecting a child's self-esteem and their ability to eat, speak and sleep. By treating oral health as preventive health care, we can better position children to thrive in school and live healthier lives.
Smiles@School kick-off.  Delta Dental of Minnesota Foundation today kicked off its 2023 Smiles@School program, which will deliver more than 40,000 oral health backpacks and tools to first-graders across the state this week.  Smiles@School is a statewide initiative funded by the Foundation to support children's oral health through education and prevention.  Smiles@School backpacks are assembled in partnership with Minnesota Diversified Industries (MDI), a non-profit social enterprise business based in Minneapolis, where nearly half of MDI's employees are people with disabilities.
"Assembling the Smiles@School backpacks is an annual highlight for our team at MDI," said Eric Black, President and CEO, MDI. "We are proud of our longstanding partnership with Delta Dental and love knowing that these backpacks will help thousands of children across Minnesota learn how important it is to take care of your teeth."
"The Smiles@School program brings together the best in collaboration among local community partners and teachers to put kids first," said Stephanie Albert, President, Delta Dental of Minnesota Foundation. "Our impact is statewide as we work to build innovative leadership and partnerships in the oral health, overall health, and public sectors of our community."
To learn more about the Smiles@School program, visit the Smiles@School website at  https://www.deltadentalmn.org/smiles-at-school
About Delta Dental of Minnesota Foundation
Delta Dental of Minnesota Foundation supports optimal oral and overall health outcomes while advancing social equities by expanding access to dental care and investing in the communities across Minnesota.
About MDI
MDI is a trusted Minnesota manufacturer and nonprofit social enterprise with the mission to provide employment opportunities and services for people with disabilities. We create high-quality plastic containers to ship, pack and store products, and offer unparalleled product assembly and packaging services for organizations across the country, from small businesses to Fortune 500 companies. By offering an inclusive workplace that allows employees to build confidence, independence and purpose, MDI's work results in dedicated employees and satisfied customers. To learn more, visit mdi.org.