Deft Management: Eric Black Takes the Reins of Minnesota Industries
For 12 years, Peter McDermott, CEO and president of Minnesota Diversified Industries (MDI), has led this not-for-profit manufacturing giant through a national recession, major corporate changes, and even a global pandemic. His efforts have seen the company not only rise through tumultuous years in the early 2010s but thrive even now through the coronavirus and years of workforce shortage in Minnesota. On April 1, McDermott retired from his role, giving the lead to Eric Black, who brings more than two decades of experience in marketing and manufacturing, plus a background in the sort of social good that is central to MDI's mission.

Founded in 1964, MDI today is a $33-million, 562-employee, four-campus social enterprise that combines a specialty in manufacturing extruded plastic products with a mission positioned on employing disabled workers. If you've ever seen those ubiquitous plastic totes used by the United States Postal Service, you know their work. The company's client base is split evenly between government contracts and commercial distributors who sell to notable brands like Amazon, FedEx, U-Line, and Nike.
MDI also takes on projects that require labor-intensive processes, like sorting mixed products for resale or producing scattergram radiology pads, water quality test kits, surgical glove kits, and other medical products in their ISO-certified clean space.
MDI strives to employ a 50% disabled workforce, and all employees make at least minimum wage. It also advocates for disabled rights and the value of meaningful employment to persons with disabilities, as well as the economic value to the state of employing these willing workers. A 2016 Wilder Research study found that the annual economic benefit to taxpayers, society, and the disabled is approximately $1.8 million via wages annually. These dollars translate into tax base as well as personal spending, and the income received by many who would otherwise receive support from government services frees up tax dollars for other purposes and caregivers and families for other needs. In the 2015 year studied, the company received $368,965 in donations and grants. The study concluded that every $1 invested in MDI yielded an ROI for the economy of $4.87.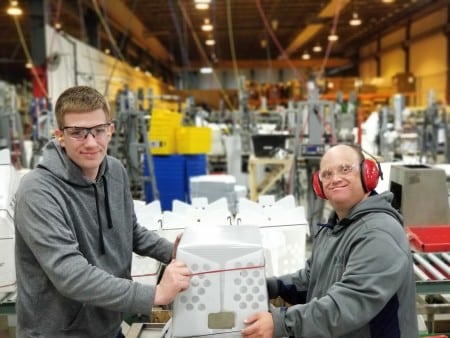 But it wasn't always this way. Around the time McDermott joined MDI in 2008, the company was enjoying a surge in prosperity. The company's workforce had rocketed to more than 400 employees and tripled the size of its Grand Rapids facility. But the company's dependence on one government contract — the USPS — made it particularly vulnerable to the market for- Deft Management Eric Black takes the reins of Minnesota Diversified Industries By 2010, USPS orders dwindled. MDI's workforce shrank to only 120 people, and the company's managers scrambled to find a more stable mission. By 2010, USPS orders dwindled. MDI's workforce shrank to only 120 people, and the company's managers scrambled to find a more stable mission. So, McDermott diversified, seeking commercial clients (who had previously made up some 10% of their orders) to now fill half the company's capacity (around $13 million in 2019), with the USPS contract (at around $16 million in 2019) making up the other half. MDI added a services division in the Twin Cities facility to handle medical products and repackaging. A surge order from the USPS in 2011 added to the growth, and MDI's workforce fought their way back into an era of stability.
The profitability of this new business model enabled MDI to focus on adding workspace for a workforce that grew with every new client. It relocated its St. Paul plant across the river, to a 40,000-square-foot facility in Minneapolis that quickly expanded to 60,000 square feet. After acquiring Deer River Hired Hands in 2013, MDI purchased a 110,000-square-foot facility in Cohasset. In Hibbing, the company's operation in a former Greyhound Bus building evolved in 2018 to a 36,000-square-foot plant near the Hibbing Airport. And in the last few years, MDI increased its commitment to the Grand Rapids area by adding new machines, new processes, and dozens of new jobs.
But in April 2021, McDermott, now 70, retired and the company's board selected new President and CEO Eric Black — a 23-year manufacturing veteran — whose background combines plant management, production, and a commitment to raising up others.
Growing up outside Kansas City, Black has a degree in chemical engineering as well as an MBA. He spent more than 20 years working for Cargill, Inc, managing plant operations, business development, and sustainability initiatives at facilities in Iowa, Nebraska, and Minnesota.
He and his family moved to Minneapolis in 2009, following a new position at Cargill. Four years later — while still busy at Cargill — he co-founded the Twin Cities Black Affinity Network Development Day (TC BANDD), which today has trained more than 2,000 people from over 650 companies on core life skills like financial management, conflict resolution, and personal growth. What started as a collaboration with a friend from General Mills has grown into a life-changing organization with sponsors like Cargill, General Mills, Wells Fargo, Best Buy, Target, Johnson & Johnson, and U.S. Bank. Seeing the impact of lifting up others inspired the 46-year-old executive to plot a new course.
"I just felt that continuing to drive [and] increase profitability within a corporate environment was diverging from my DNA," Black remembers. "So, I made the decision to leave Cargill."
Timing wasn't on his side, however. Black says that Cargill gave him its full support in pursuing something new that spoke to his heart and his experience, but his six-month's notice came to a conclusion in March 2020. He intended to spend some time meeting with friends, reading a few good books, and learning about other options to earn a living while giving back, but the coronavirus had other plans.
So, he became a distance-learning teacher for his two children, he jokes, and temporarily took a job as the global marketing and technical sales director for Univar Solutions at about the same time an opening appeared at MDI. He says a chance encounter with a book humbled him from thoughts that he could use his corporate experience to swoop in and become a hero in the non-profit world.
With MDI searching for a new CEO, Black saw an opportunity to leverage his background in production and commercial sales with his desire to help others.

"There are a lot of things we can do that could be profitable, but if they don't [create] jobs, we won't do them," Black says. "If they're things that don't create or [that] jeopardize our culture of inclusiveness, we won't do them. If we're not employing enough people with disabilities, we hold ourselves accountable to think differently and figure out how we could get it done."
As CEO, Black has a three-pronged strategy for MDI's growth by focusing on business development, workforce development, and advocacy. He'll work to further diversify the company's product lines through MDI's new polypropylene extruder to accompany its long-successful extruded polyethylene products; expand the company's outreach through new technologies, such as virtual reality; and continue working in advocacy on the benefits of a diverse workforce that includes veterans, the disabled, and members of disadvantaged or underrepresented communities.
"This is not a sheltered work group," he says. "These are people who are participating in a vibrant employment opportunity that allows them to do meaningful work. It's on me as a leader to make sure we find and continue to grow those opportunities. That's what I'm most excited about." —R.C. Drews