Matt Christianson leads by example as a true friend
By Jonathan Ryan Herald-Review on Mar 9, 2023
When it comes to being a role model in the community, Matt Christiansen is doing it the right way. Son, friend, and co-worker, life is good for the 41-year-old Grand Rapids native, who recently celebrated his 20th Anniversary working with MDI, as well as being named Employee of the Quarter at Hardee's in Grand Rapids.
Starting with Deer River Helping Hands in the early 2000s at age 21, he has been working with MDI ever since, making his home at the location in Cohasset. Matt is an assembler at MDI, but he loves to do it all while he isthere. Working through two decades of changes with the com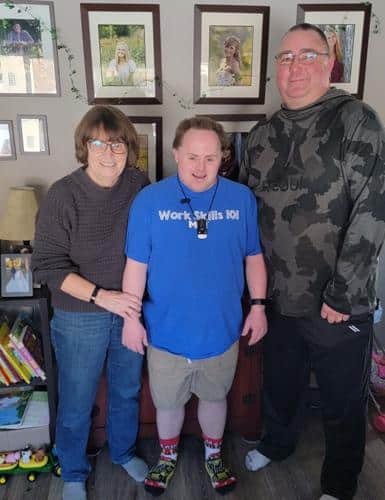 pany, one thing hasn't changed, Matt.
Matt loves being at work and with his co-workers. While sitting with him, his mother Patty, and Dan Carlson, who works with Matt at MDI; it was evident these people are not Matt's co-workers, they are his friends. And when not working with his friends at MDI, he is working with his friends at his other job in town, Hardee's.
The Covid-19 pandemic in 2020 put Matt on hold with both jobs and he was forced to stay home for a period of time. Luckily for him, Matt has enough hobbies to keep anyone busy.
Matt loves to golf, bowl, fish, and has an entire line-up of his favorite movies and TV shows. Also, Matt is a huge wrestling fan, which was obvious with his "Macho Man" Randy Savage socks on display. His mom Patty was even excited while talking about wrestling with her son.
As a hockey fan, Matt is a regular on the ice in the waiting room of the Grand Rapids High School Hockey team. Always with his friends when he has the chance, Matt says he has been trying to convince the team for a long time to try the "Flying V," a nod to the Mighty Ducks movies. But he's still waiting on that one.
And despite enough hobbies to keep him busy, nothing can replace what he loved the most: going to work and being with his friends. Matt was soon able to return to MDI to continue his 20-year career and to keep an eye on Hardee's. Dan Carlson, Matt's friend, and co-worker at MDI, is someone who helps those in the community find sustainable jobs and was able to help Matt get his old job back at Hardee's.
"He loves visitors at Hardee's and Matt had no problem falling right back into routine when he was welcomed back," added Carlson.