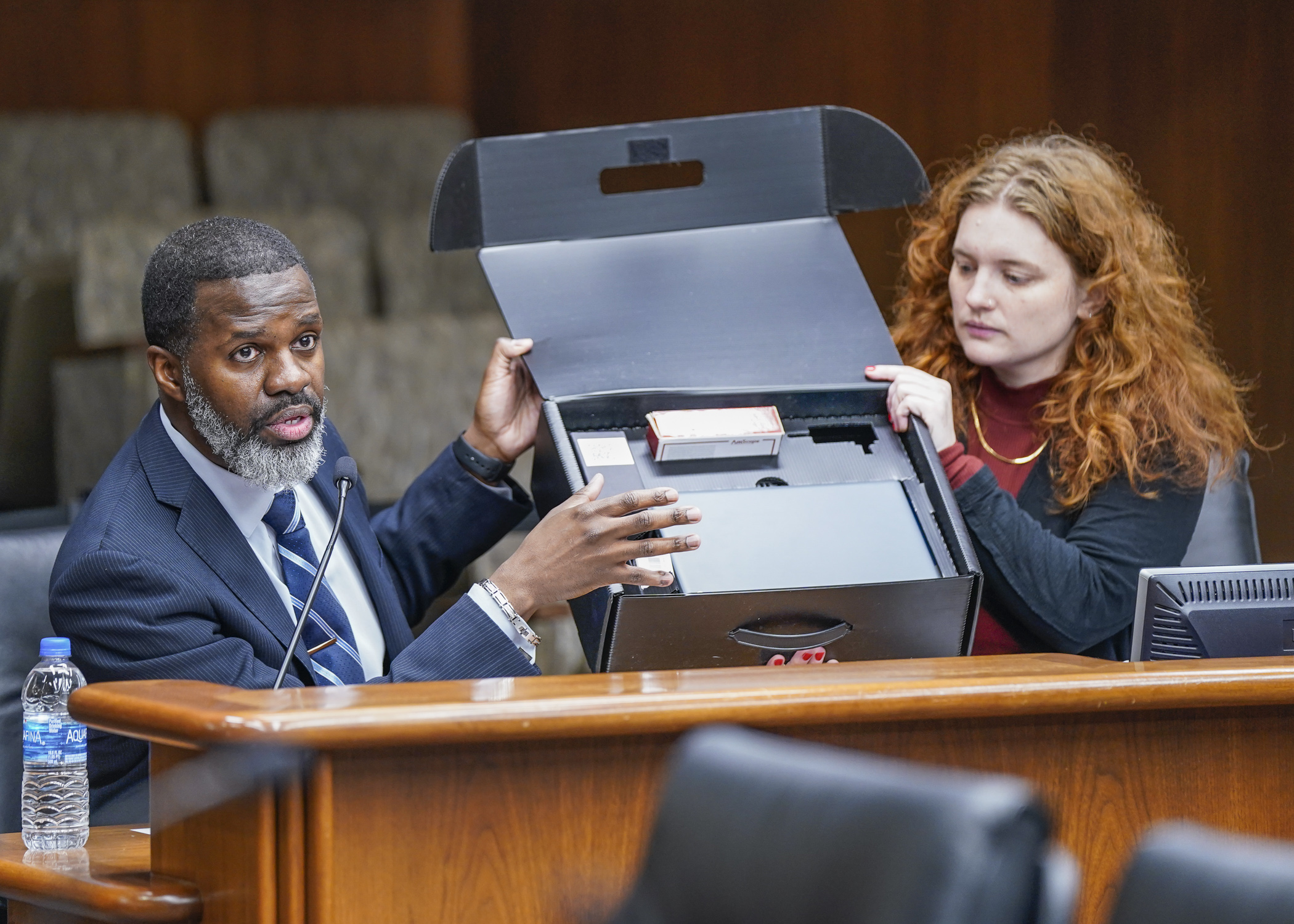 With the help of Rep. Sydney Jordan, Eric Black, president and CEO of Minnesota Diversified Industries, shows a STEM box that is designed to help individuals with disabilities find and secure employment. (Photo by Catherine Davis)
By Tim Walker
Every day Rep. Sydney Jordan (DFL-Mpls) drives to her job at the House, she passes the manufacturing headquarters of Minnesota Diversified Industries.
And every day she thinks about the potential represented by the workers inside.
MDI is a nonprofit manufacturing and assembly company training and hiring people with disabilities, who Jordan says are an underutilized labor source that could help alleviate the workforce shortage across the state.
"We desperately need to grow our workforce, and people with disabilities is a big group of people who want to work, and can work, and want to be part of our workforce," Jordan said.
To that end, Jordan sponsors HF1098, which would make two appropriations to MDI totaling $1.9 million: $900,000 in the 2024-25 biennium to support the organization's ongoing work and a $1 million one-time appropriation in fiscal year 2024 to expand MDI's programs statewide through new virtual, online, and in-person career skills classes augmented with virtual reality tools.
The House Workforce Development Finance and Policy Committee heard testimony Wednesday before laying the bill over for possible omnibus bill inclusion.
"People with disabilities are disproportionally unemployed and often face barriers to obtaining and retaining employment," Jordan said.
Eric Black, president and CEO of MDI, said the company trains its disabled employees to grow within the organization or find jobs outside it.
Although he sometimes encounters resistance from employers reluctant to hire these workers, Black said that, after hiring them, he almost always hears praise about their dedication and good work ethic.
Ninety-four percent of businesses surveyed said their employees with disabilities met or exceeded their performance and quality standards, Black said.
MDI employs about 530 people, Black said, a little over 200 of whom have disabilities. The company is headquartered in Minneapolis, with locations in Hibbing, Grand Rapids, and Cohasset.
In addition to expanding MDI's statewide presence, the one-time $1 million appropriation would help the company continue pilot projects using mobile classrooms in Rochester, Bemidji, Duluth, St. Cloud, and Brainerd.