Minnesota Diversified invests $3.2M to add PP sheet extrusion
August 22, 2022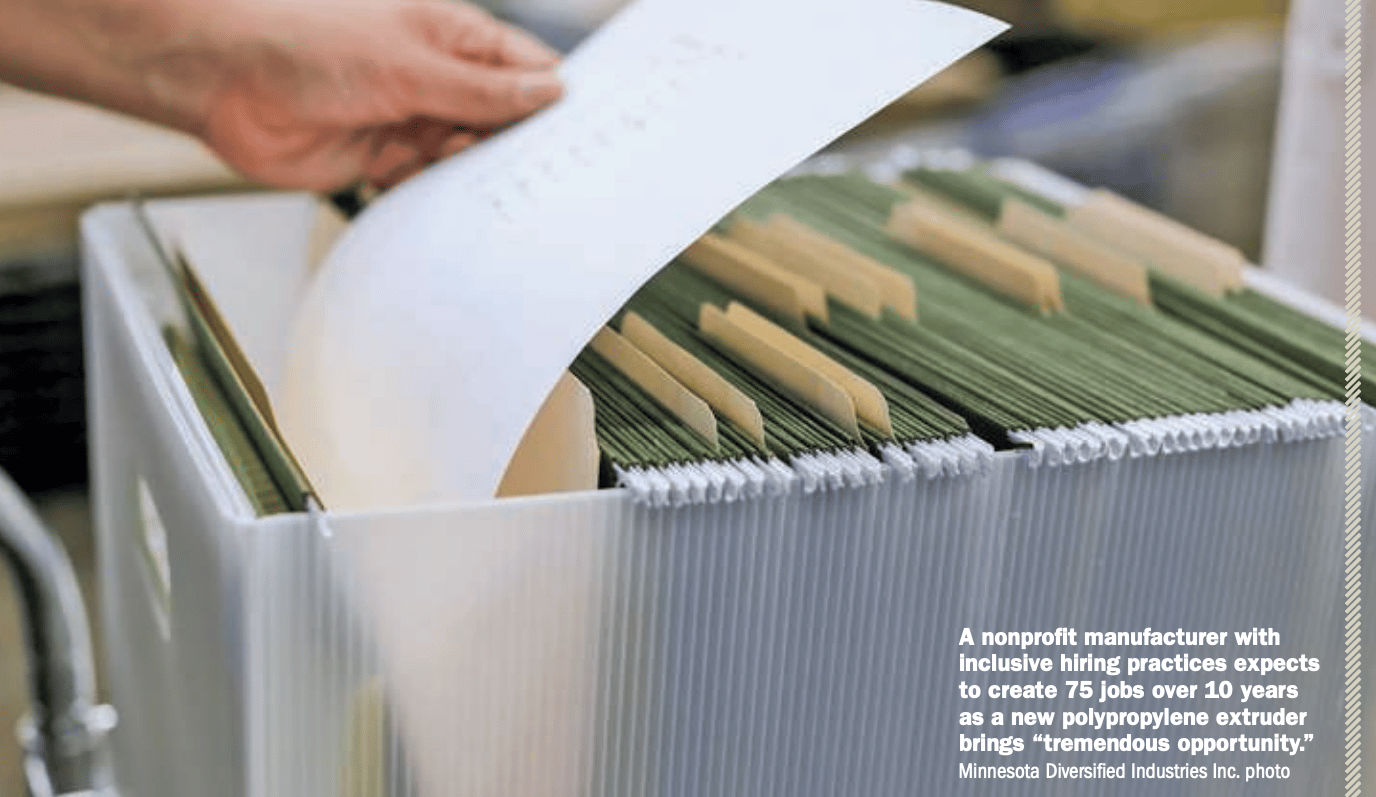 By Catherine Kavanaugh Plastics News Staff
Packaging producer Minnesota Diversified Industries Inc. (MDI) invested $3.2 million into a new extruder and related upgrades that is expected to create 75 new jobs over the next 10 years for the nonprofit social enterprise company. Based in Minneapolis, MDI produces polyethylene and polypropylene boxes, totes and trays for the medical, food, agriculture, logistics, manufacturing, and warehouse and distribution markets at manufacturing plants in Grand Rapids, Hibbing and Cohasset. Founded in 1964 as an occupational training center for high school students with disabilities, the center took its first step into contract manufacturing in 1973 after receiving work from a federal agency and 3M Co. The training center was renamed Minnesota Diversified Industries in 1976 and has continued to serve people with developmental and physical challenges through inclusive hiring practices. Annual sales are about $35 million with accelerated growth over the last several years into commercial markets, MDI Sales Vice President Barbara Majerus said in a phone interview. The customer base now includes many brand names and Fortune 100 and 500 companies as well as smaller organizations across many industries.
The orders also keep coming from the federal government, which purchased its 100 millionth plastic fl at tub from MDI in 2021, according to the company's website. To meet the demand, MDI has been operating two extrusion lines for PE sheet. The company also had been buying stock PP sheet for the last four years to convert in their operation with plans to eventually become fully vertically integrated. That day is near. The business just installed a CP 2500 hollow profile sheet mono extrusion line from Milan, Italy-based Agripak srl at its Grand Rapids facility that will be dedicated to PP products. "This is going to allow us to be even more competitive in the market than buying the sheet elsewhere and converting it here," Majerus said. "I have wanted this polypropylene extruder my entire 14 years here because there is such tremendous opportunity in the market." She pointed to demand for retail signs and displays, packaging, product partitions and dividers, and hopper bins in addition to custom products to transport, organize or store goods. "We will sell sheets, but it won't be our prevalent focus," Majerus said. "MDI is unique. We want as much job impact as possible. We're going to go after packaging products that require additional manufacturing processes like RSCs, or reusable slotted containers. That is one of the biggest opportunities in the PP packaging space." RSCs are durable, lightweight, reusable and come in different closure styles, such as standard, tuck and tab with optional add ons for Velcro, elastic or foam.
MDI will offer square-fluted PP sheet in eight standard colors as well as custom colors. By extruding it in-house, the company also can expand the product offering to include 5-millimeter-thick sheets in addition to 3- and 4-millimeter sheets. The extruder cost about $1.7 million, and the downstream equipment and facility electrical upgrades brought the investment to $3.2 million.
MDI spent some of its financial reserve to cover the expense along with grants from major supporters, including $675,000 from the Blandin Foundation, $250,000 from the Iron Range Resources and Rehabilitation Board, $75,000 from the Otto Bremer Foundation and $10,000 from Enbridge.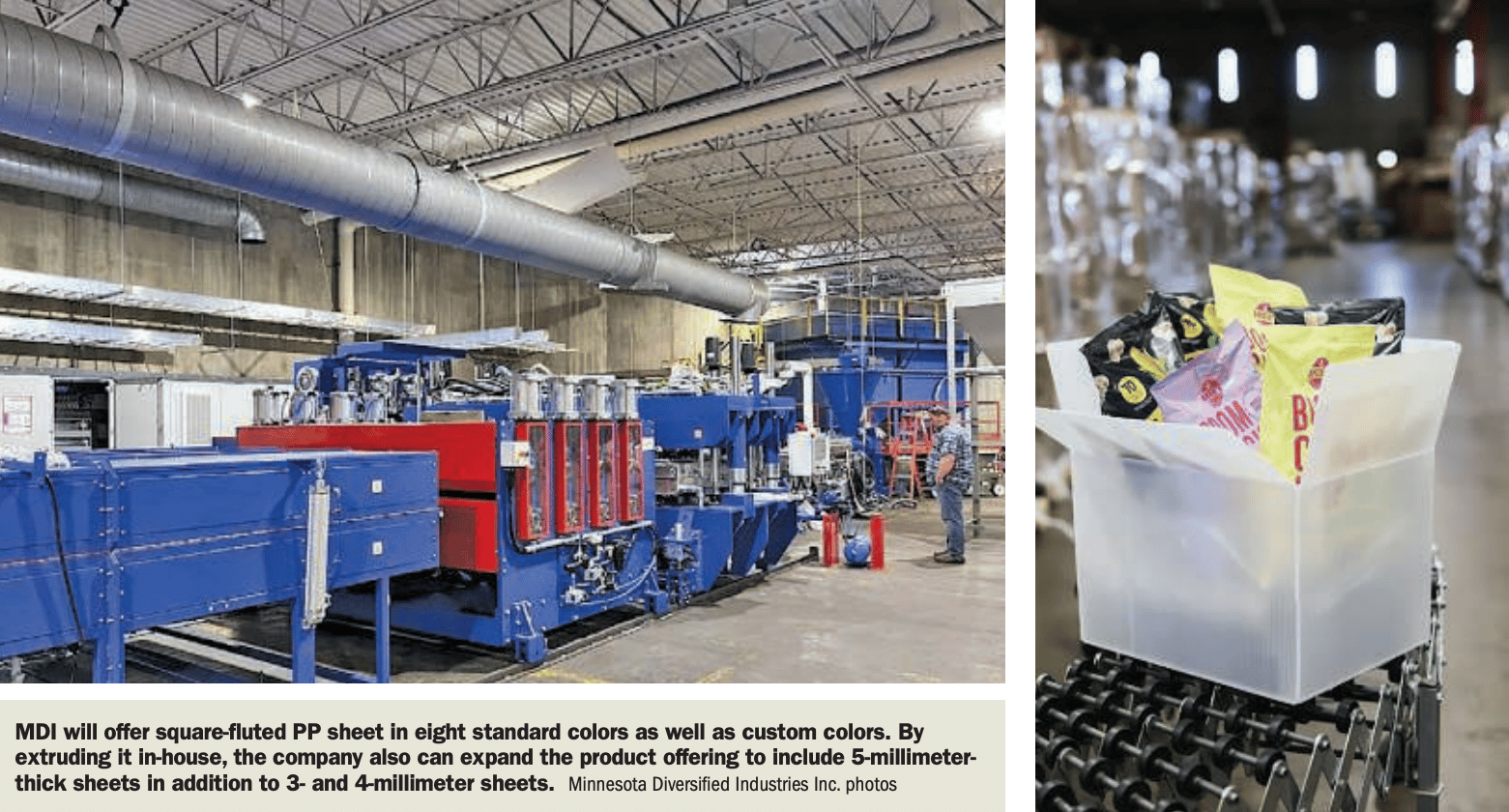 "They all really believe in the mission of MDI," Majerus said. "We have an integrated environment where people can be successful in manufacturing." About 45 percent of MDI's 400 employees have developmental disabilities, mental illness, physical challenges, orthopedic or neurological disorders, or vision and hearing challenges.
However, Majerus said they are not barriers to meaningful work. "Everyone has abilities. They just need to be matched with the right job and support," she said. "We offer the accommodations, training and coaching to help them be successful. We turn the model upside down. We don't look at disabilities. We look at peoples' abilities and match them with the right opportunity." The "we" also includes an MDI engineering team that works with customers on designs based on their specific applications and then provides free samples. "While our new extruder will significantly improve our ability to provide a differentiated customer experience, the positive impacts of this extrusion line go well beyond that," MDI President and CEO Eric Black said in a news release. "Growth from this innovative technology will also allow MDI to create new employment opportunities for people with disabilities.