Have you ever wondered about the synergy between healthcare and empowering job seekers with disabilities? The answer lies in the remarkable partnership between the Mayo Clinic and MDI's Unified Work program. Join us as we delve into the reasons behind this collaboration, its alignment with Mayo Clinic's values, and the transformative impact it has had on individuals' lives.
Empowering Opportunities: A Purposeful Partnership
The decision to host Unified Work classes at the Mayo Clinic was driven by a shared vision of creating opportunities for individuals with disabilities within the community. Recognizing that some were either underemployed or unemployed, the Mayo Clinic saw an avenue to make a meaningful difference. Unified Work Academy became a gateway to not only build essential soft skills but also to introduce job seekers to the array of healthcare careers available.
Fostering Core Values: A Unique Connection
Unified Work didn't just bring job seekers and opportunities together; it aligned with the Mayo Clinic's core values seamlessly. The program's instructors translated Mayo Clinic's values of teamwork, empathy, integrity, and mutual respect, allowing participants to connect on a deeper level. The exposure to different departments and the organization's culture during the program played a pivotal role in shaping participants' success in the Mayo Clinic job application process.
Unlocking Insight: An Inside Look
One of the program's remarkable features was the behind-the-scenes glimpse it provided into the Mayo Clinic. Participants gained an intimate understanding of how the clinic's dedicated staff serves the needs of patients. This immersive experience became the "secret sauce" and fostered a sense of connection and purpose, aligning perfectly with Mayo Clinic's commitment to delivering exceptional patient care.
Unity in Mission: A Shared Commitment
Unified Work's affinity with Mayo Clinic's values goes beyond skill development. The program echoes Mayo Clinic's commitment to investing in internal and external talent, ensuring a diverse and reflective workforce. By giving back to the community it serves, the Mayo Clinic underscores its dedication to inclusivity and representation.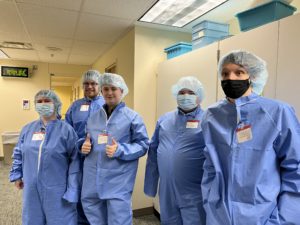 Exceptional Leadership: A Tailored Approach
What stood out most for the Mayo Clinic was Unified Work's leadership and instructional staff. "The Unified Work program leadership and instructional staff were the most impressive to me. They were willing to listen to the business needs and to really customize the program to align with our program's needs for talent as well as our organizational culture" said Dawn Swiers, Mayo Clinic Diversity Recruitment Specialist. This adaptability ensured that the program wasn't just a one-size-fits-all solution but a tailored experience that maximized impact.
Empowering Transformation: A Success Story
Unified Work's impact is best exemplified through a remarkable success story. A Unified Work Academy graduate, with no prior healthcare experience, but with a keen attention to detail, aspired to serve people. During the program, his confidence soared, leading him to apply for an Endoscopy Technician position. A year later, he remains a testament to the transformative power of Unified Work, thriving in a life-changing career at Mayo Clinic.
Conclusion: A Journey of Empowerment
The partnership between the Mayo Clinic and Unified Work isn't just about job training; it's about empowerment, values, and the collective belief in the potential of every individual. Through this collaboration, the Mayo Clinic's commitment to diversity, community, and excellence finds a profound reflection. As Unified Work continues to bridge opportunities, it enriches lives, transforms careers, and champions the spirit of inclusivity that both partners hold dear.
MDI was founded to empower the career success of people with disabilities and is celebrating National Disability Employment Awareness Month by featuring Ability Pioneers: people who have taken purposeful, innovative steps in advancing opportunities and access.