In honor of National Disability Employment Awareness Month, MDI is saluting people who've stepped ahead, above and beyond in the name of equitable opportunity and employment for people with disabilities. In a time of worker shortages and employment uncertainty, actively hiring people with disabilities is a way to reduce turnover, recruit a dedicated workforce, boost DEI efforts, and enhance overall success by adding different perspectives and ways of thinking to your internal teams.
Introduction: Defying Challenges with Advocacy
In the heart of Minnesota Diversified Industries (MDI), a remarkable story of advocacy unfolds. Meet Steve Reinardy, a dedicated member of our MDI family for over a decade. His journey, from a volunteer to MDI's Safety Coordinator, showcases the unyielding spirit of advocacy that defines both Steve and MDI's mission.
Advocacy in Action: Triumph Over Adversity
Steve's story is a testament to the triumph of determination over adversity. Born with a disability, he has never allowed challenges to limit his potential. Instead, he's an embodiment of advocacy, demonstrating how unwavering determination can overcome any obstacle. At MDI, he's not just an employee; he's a force of nature, driving positive change through his advocacy efforts.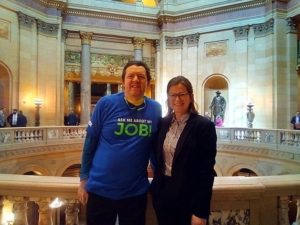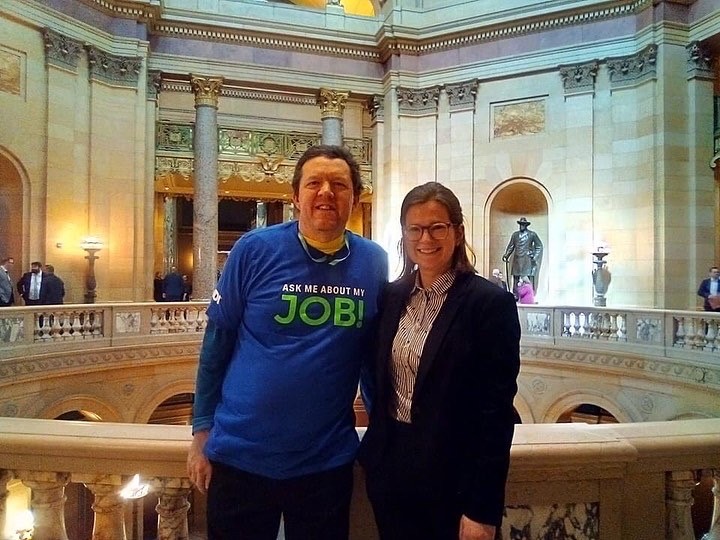 A Community Champion: Beyond the Workplace
Steve's impact extends beyond the walls of MDI. A multi-year volunteer at Dodge Nature Center, active in the Special Olympics, and a participant in the Polar Plunge, Steve's dedication has earned him "volunteer of the year" accolades. His advocacy radiates through social media, where he proudly promotes the organizations he supports. His advocacy isn't confined; he has also spoken at the state capital, and MN Counsel for Disability in 2020, amplifying the voices of those he represents.
The MDI Difference: Recognizing Potential
In 2011, Steve's journey took a transformative turn as MDI welcomed him into its diverse community. MDI's unique business model as a nonprofit manufacturer, with nearly half the team composed of individuals with disabilities, recognized Steve's abilities beyond his challenges. The essence of advocacy is woven into MDI's ethos, fostering an environment where strengths are nurtured and potential is realized.
Empowerment Through Growth: From Janitorial to Safety Coordinator
MDI's focus on strengths propelled Steve's growth journey. Starting in a janitorial role, Steve's dedication and positive attitude were undeniable. Over time, he expanded his skill set across assembly, welding, packaging, and machine maintenance. MDI's Unified Work classes further empowered him, honing his interview, communication, and interpersonal skills. Steve's commitment was so evident that he helped to teach the Unified Work 101 class—an accomplishment that he holds dear.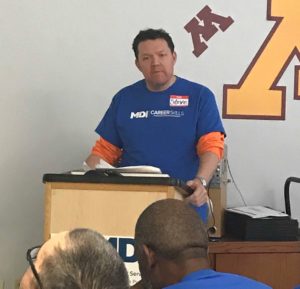 A Beacon of Possibility: Meaningful Employment
For Steve, a job at MDI isn't just a paycheck; it's a purpose. It's the structure, camaraderie, and the fulfillment of contributing to something greater. Steve's journey underscores that individuals with disabilities are reservoirs of potential, ready to enrich the workforce. His advocacy carries a message: diversity encompasses more than meets the eye. Employers who embrace this broader perspective drive transformative change.
MDI: Where People Shine Brightest
MDI's exceptionalism lies not only in its products but in its people. With an unwavering commitment to inclusivity, MDI's workforce mirrors its values. Steve Reinardy stands as a living testament to MDI's core principles—embodying the spirit of advocacy, resilience, and empowerment. From volunteer to Safety Coordinator, Steve's journey is a beacon of inspiration that illuminates the path for a more inclusive future.
Conclusion: Advocacy that Transforms
Steve's advocacy journey intertwines with MDI's mission, illuminating the potential of individuals with disabilities. It's a journey that fuels the belief that everyone, regardless of challenges, possesses the power to advocate, succeed, and make a lasting impact. Steve's advocacy isn't just a personal triumph; it's a call to action for a more inclusive and empowering society. Through his story, we recognize the true essence of advocacy—a force that transforms lives, organizations, and communities.
MDI was founded to empower the career success of people with disabilities, and is celebrating National Disability Employment Awareness Month by featuring Ability Pioneers: people who have taken purposeful, innovative steps in advancing opportunities and access.