In honor of National Disability Employment Awareness Month, MDI is saluting people who've stepped ahead, above and beyond in the name of equitable opportunity and employment for people with disabilities. Have you ever wondered what sets a successful employee apart? It's not just about tasks and responsibilities—it's the soft skills that truly make a difference in the workplace. If you're considering the Unified Work program, let us give you a glimpse into what it's all about and why it could be your pathway to personal and professional growth.
At Minnesota Diversified Industries (MDI), we believe in transforming lives and fostering meaningful employment opportunities for individuals with disabilities. Austen Brown's journey from Vocational Rehabilitation to becoming a dedicated Job Coach is a testament to the empowering environment and growth opportunities we offer.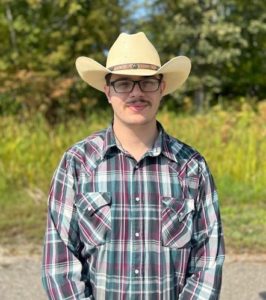 Introduction: A Path Unforeseen
Austen Brown's story is one of unexpected turns and remarkable growth. Raised with the guidance of his mother and the support of Vocational Rehabilitation Services, Austen's journey led him to MDI's Cohasset facility in Minnesota. What began as an uncertain step became an inspiring journey of self-discovery and professional development.
A Meeting That Changed It All
During high school, Austen's counselor introduced him to Minnesota Diversified Industries. Austen's initial reluctance to work at MDI changed when he met Alice Prtine, MDI's job placement specialist. A chance meeting with Brandy, MDI's Operations Supervisor, provided the encouragement Austen needed to give MDI a chance.
Discovering a Home at MDI
In 2016, Austen embarked on his MDI journey as an Assembler. What started as a temporary stop turned into a place where Austen honed his skills, developed expertise, and found his niche. As Austen mastered various machinery and extended help to his colleagues, his reliability and dedication shone through.
Empowering Through Education: The Career Skills Program
A pivotal moment arrived when Austen became part of MDI's Unified Work program. Through this initiative, Austen gained interview skills, workplace etiquette, and effective communication techniques. Austen's personal growth extended to enhancing teamwork and leveraging individual strengths, a philosophy MDI strongly believes in.
Elevating Roles: The Path to Job Coach
Recognizing Austen's aptitude and commitment, Operations and Employment Services encouraged him to apply for the Job Coach position. Austen's hunger for learning and progress propelled him forward, and he embraced his new role. Reflecting on his journey, Austen shared, "The Unified Work program equipped me with emotional intelligence and effective communication, helping me excel in my role as a job coach."
 A Passion for Helping Others
Austen's role as a Job Coach aligns perfectly with his innate desire to assist others. His enthusiasm for guiding and supporting his colleagues shines through as he helps with tasks, provides guidance, and offers coaching on the floor. Austen's passion stems from a place of empathy, making his work not just a job but a calling.
Fostering Growth and Overcoming Challenges
Austen's dedication to personal growth is evident in his encouragement for coworkers to enroll in the Unified Work course. This course opened doors for Austen, allowing him to advance within MDI and improve his financial situation. Austen's career progression even led to purchasing his first home, a dream realized through his commitment and MDI's support.
A Vibrant MDI Environment
Austen's love for MDI's environment is palpable. He describes it as a unique blend of seriousness and light-heartedness, making the workplace both focused and enjoyable. The sense of support and community at MDI has enabled Austen to thrive and open up, fostering his confidence in his role.
Conclusion: An Unexpected Career Path
Austen Brown's journey at MDI exemplifies the power of a supportive and inclusive work environment. What started as a temporary stint became a fulfilling career that exceeded his expectations. MDI's commitment to empowerment, growth, and fostering individual talents has made all the difference in Austen's life. His story showcases how MDI's mission of providing meaningful employment opportunities can transform lives and create unexpected, rewarding careers.
MDI was founded to empower the career success of people with disabilities and is celebrating National Disability Employment Awareness Month by featuring Ability Pioneers: people who have taken purposeful, innovative steps in advancing opportunities and access.