Regular Slotted Containers Excellent Features
We provide a diverse selection of competitively priced corrugated plastic regular slotted container (RSC) options. With excellent features that promote the durability and reusability of our RSC boxes are sure to outlast our competitors.
Our Regular Slotted Containers
MDI offers a wide variety of regular slotted containers in various sizes. These containers are accompanied by excellent features that improve upon their durability and protective qualities. You'll know that the products you've invested in will be safe and secure during their transportation or storage.
Most of our products come in multiple colors and can be eligible for custom sizing, making it easy to create the perfect corrugated regular slotted container for your needs. With ten different options, MDI has you covered when it comes to all your RSC box needs. You can even add label holders, stickers, or hand holes inserts.
Medium Rectangular RSC Box - 2513
The 2513 medium rectangular RSC box features a secure L-lock top with sturdy built-in hand holes to make transportation easier. This durable and reusable corrugated regular slotted container will safely protect its contents thanks to MDI's standard auto-lock bottom.
Standard Dimensions: 20 x 14 x 10
Standard Colors: Natural, Black, White, Gray, Blue, Yellow, Green, Red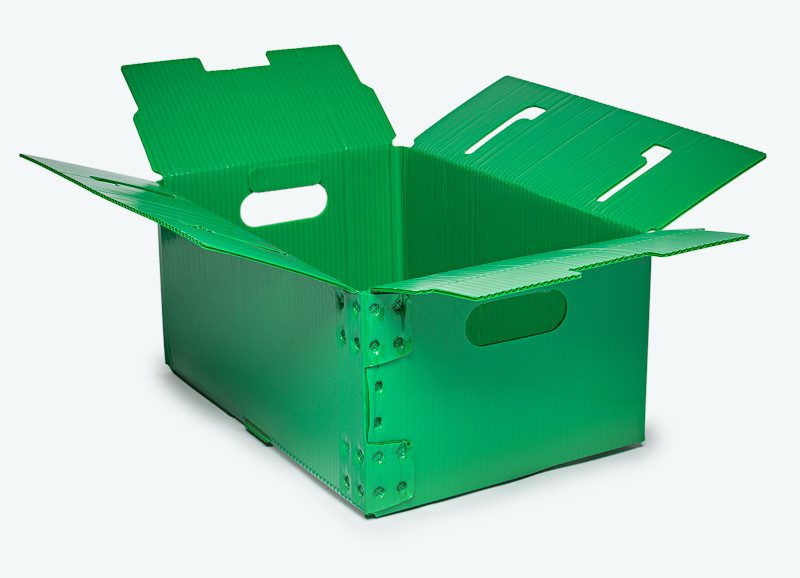 Large Rectangular RSC Box - 2539
If you need a roomier corrugated regular slotted container, try the 2539 large rectangular RSC box. The stable L-lock on top and sturdy built-in hand holes make transport easy. Plus, the 2539 RSC box features an auto snap lock bottom for additional durability and safety.
Standard Dimensions: 16 x 12 x 12
Standard Colors: Natural, Black, White, Gray, Blue, Yellow, Green, Red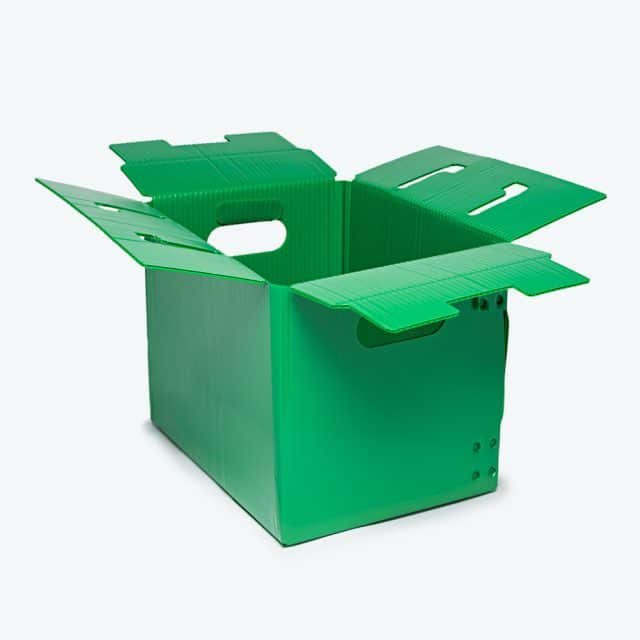 Standard Square RSC Box - 2636
If a rectangular form isn't for you, give the 2636 standard square RSC box a try. The 2636 RSC box features the same superior L-lock top with handy built-in hand holes that make transport and storage easy. In addition, the durable corrugated form and auto-lock bottom keep your items secure.
Standard Dimensions: 18 x 18 x 16
Standard Colors: Natural, Black, White, Gray, Blue, Yellow, Green, Red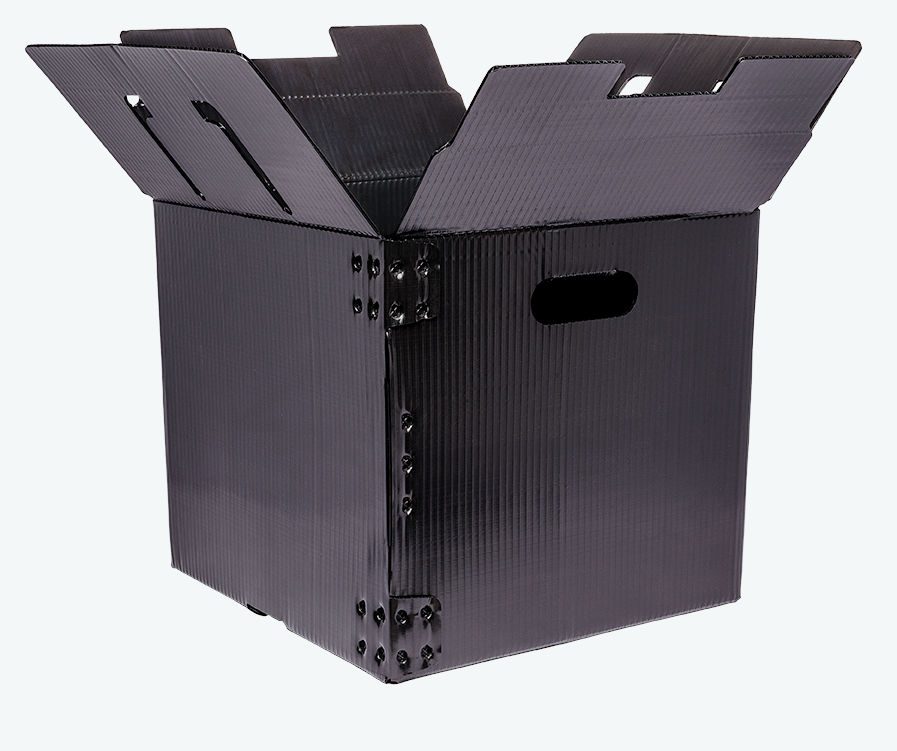 Plastic Regular Slotted Container Features
MDI's regular slotted containers offer many beneficial features, from its durable corrugated plastic form to its secure locking mechanisms. Your products remain in excellent condition throughout the entire distribution and shipping process. Plus, the containers are entirely reusable and 100% recyclable and sustainable. Below is a list of some of the most advantageous features of MDI's regular slotted containers.
Durable Corrugated Plastic RSC Boxes
We all know that the process of distributing and shipping products is not entirely gentle. While being handled by numerous individuals and moved from one location after another, damage to a shipping container will occur.
However, an RSC box delivers exceptional durability thanks to the corrugated plastic material. Made from high-quality polypropylene or polyethylene, RSC boxes from MDI are available in various thicknesses from 3mm up to 5mm, so you get the right amount of durability.
RSCs With Locking Tops and Bottoms
Don't waste time taping the container closed or cutting it open with MDI's L-locking top and auto snap lock bottoms. Not only do these features increase your productivity, they keep your items secure.
Reusable RSC Boxes
The durable build and locking tops and bottoms make a corrugated regular slotted container from MDI ideal for reuse. In addition, they are water and chemical-resistant, fiber and dust free, ensuring that you save more and waste less.
Custom RSC Boxes
Since businesses and industries continue to evolve, a one size fits all mentality no longer works. We know that customization is essential in today's world. Most of MDI's corrugated regular slotted containers are eligible for custom sizing and closure options. In addition, MDI offers a free quote to those interested in purchasing custom RSC boxes. Want to know more about product customization? Give our Custom Product Builder a try now.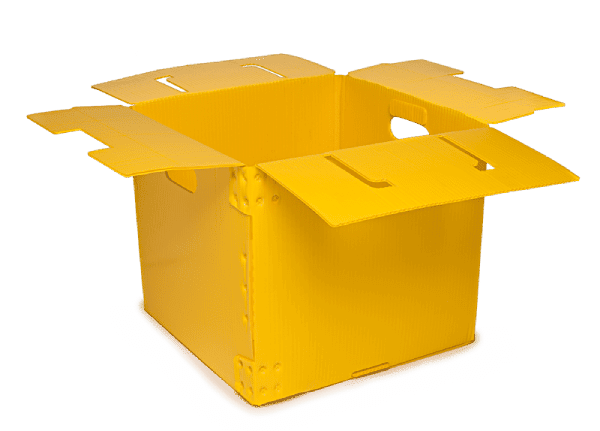 Why Choose Plastic Over Cardboard for Your Regular Slotted Containers?
Chances are you've used or handled a cardboard box at least once while moving, receiving, or sending packages. So you know the unfortunate truth about cardboard boxes – they eventually tear and leak. A cardboard box is not an acceptable option for transportation or long-term storage of valuable items or inventory. Thankfully, MDI specializes in producing corrugated plastic boxes, which are ideal for those who want to save money and resources by purchasing a durable and reusable product.
Regular Slotted Containers Perfect for Any Industry
MDI's corrugated regular slotted containers are excellent for multiple industries, from agriculture to medicine to manufacturing. When transporting, shipping, or storing your valuable merchandise and products, don't settle for cardboard that will rip or allow water damage to affect its contents. Instead, purchase a durable, reusable, cost-effective product that is 100% recyclable and sustainable. For all your corrugated regular slotted container needs, contact MDI today.