Corrugated Regular Slotted Containers (RSC) by MDI
MDI proudly presents a diverse array of regular slotted containers, available in various sizes, each boasting exceptional features that enhance their durability and protective capabilities. Rest assured; your investments remain safe and secure during transportation and storage.
Our Regular Slotted Containers
MDI offers a wide variety of regular slotted containers in various sizes. These containers are accompanied by excellent features that improve their durability and protective qualities. You'll know the products you invested in will be safe and secure during transportation or storage. 
Customization meets creativity at MDI. Most of our regular slotted containers come in multiple colors and are eligible for custom sizing, enabling you to craft the perfect corrugated RSC box to suit your unique requirements. Elevate your packaging game by adding label holders, stickers, or hand-hole inserts.
Medium Rectangular RSC Box - 2513
Efficiency meets security with our 2513 medium rectangular RSC box. Featuring a secure L-lock top and sturdy built-in hand holes, this corrugated regular slotted container ensures smooth transportation. The standard auto-lock bottom guarantees the utmost protection.
Standard Dimensions: 20 x 14 x 10

Standard Colors: Natural, Black, White, Gray, Blue, Yellow, Green, Red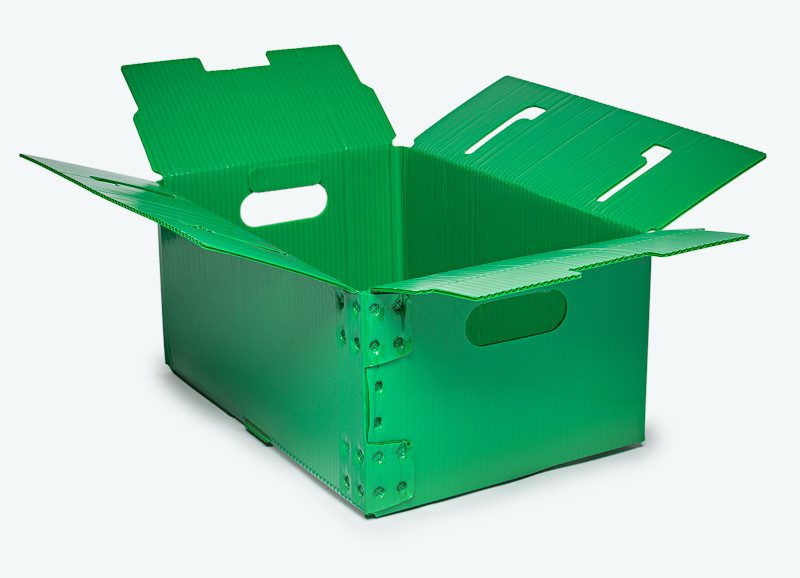 Large Rectangular RSC Box - 2539
Upgrade your packaging with the spacious 2539 large rectangular RSC box. Its stable L-lock top and robust built-in hand holes ensure hassle-free transport. Additionally, the auto snap lock bottom adds an extra layer of durability and safety.
Standard Dimensions: 16 x 12 x 12

Standard Colors: Natural, Black, White, Gray, Blue, Yellow, Green, Red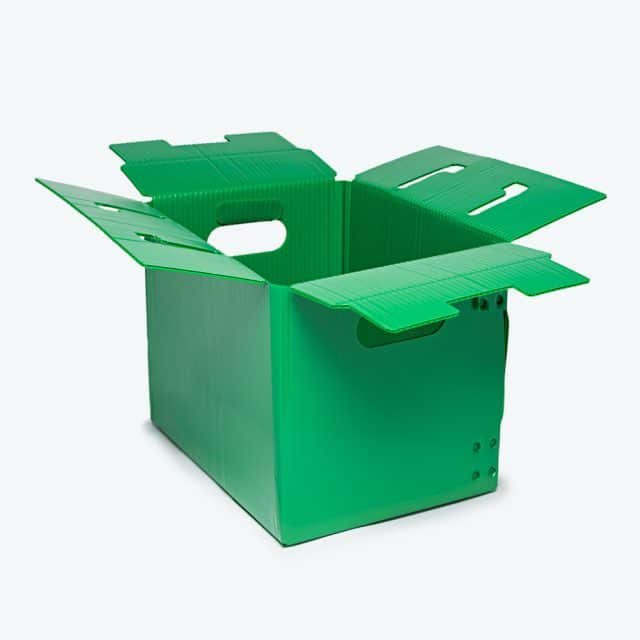 Standard Square RSC Box - 2636
If rectangles aren't your style, explore the 2636 standard square RSC box. This corrugated RSC box offers secure transport and storage, equipped with the same superior L-lock top and user-friendly built-in hand holes. The durable corrugated form and auto-lock bottom safeguard your items.
Standard Dimensions: 18 x 18 x 16

Standard Colors: Natural, Black, White, Gray, Blue, Yellow, Green, Red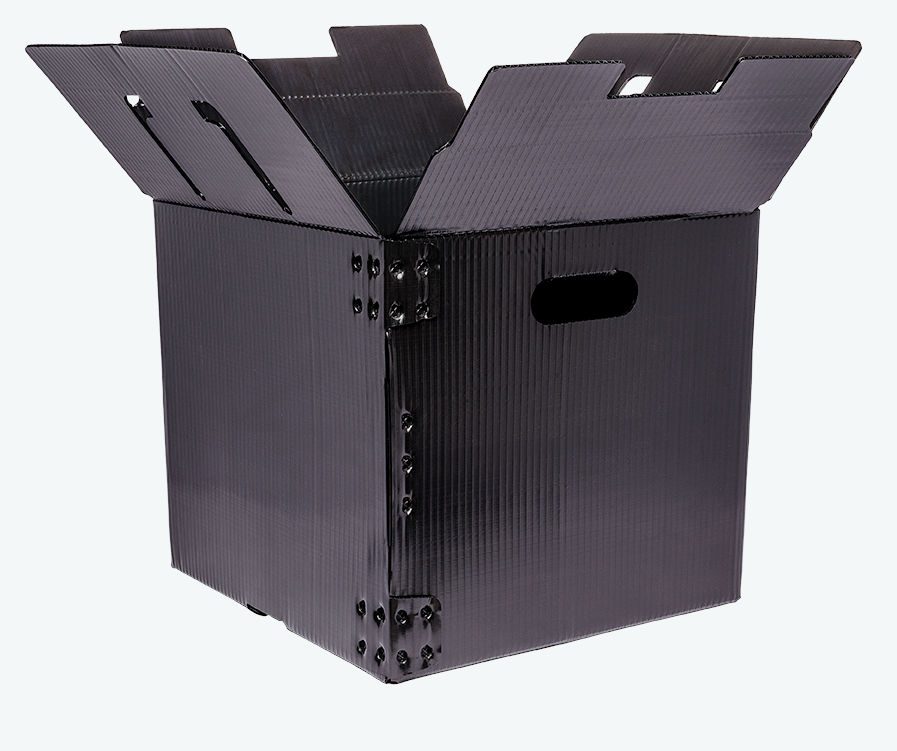 Plastic Regular Slotted Container Features
MDI's regular slotted containers boast an array of beneficial features, from their robust corrugated plastic form to their secure locking mechanisms. Your products remain in pristine condition throughout distribution and shipping. Furthermore, these containers are entirely reusable, 100% recyclable, and sustainable. Explore the advantages:
Durable Corrugated Plastic RSC Boxes
Experience packaging resilience with our RSC boxes, crafted from top-tier polypropylene or polyethylene. Available in varying thicknesses from 3mm up to 5mm, our RSC boxes provide the perfect balance of strength and durability.
RSCs With Locking Tops and Bottoms
Bid farewell to cumbersome taping and cutting. MDI's L-locking top and auto snap lock bottoms enhance both productivity and item security.
Reusable RSC Boxes
The durable build and locking tops and bottoms make a corrugated regular slotted container from MDI ideal for reuse. In addition, they are water and chemical-resistant, fiber and dust free, ensuring that you save more and waste less.
Custom RSC Boxes
In today's evolving world, customization is key. Most of MDI's corrugated regular slotted containers are eligible for custom sizing and closure options. Dive into endless possibilities with our Custom Product Builder and receive a free quote today.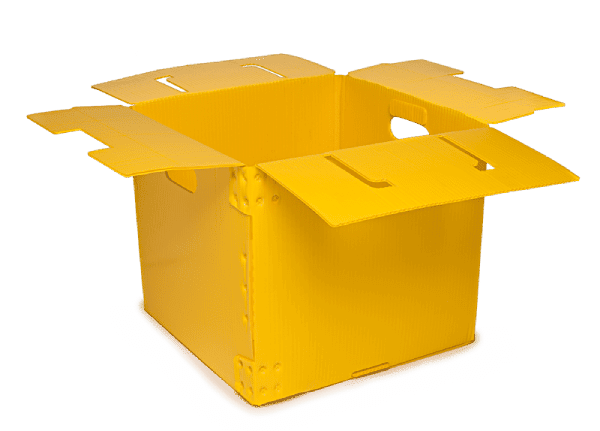 Why Choose Plastic Over Cardboard for Your Regular Slotted Containers?
Bid farewell to cardboard's shortcomings. Experience the durability and reusability of MDI's corrugated plastic boxes – a choice that saves money, resources, and the environment.
MDI's corrugated regular slotted containers cater to diverse industries, from agriculture to medicine to manufacturing. Don't compromise on protection – choose a durable, reusable, and cost-effective solution that's 100% recyclable and sustainable.
Durable Plastic Totes: A Wise Investment
At MDI, we understand the significance of maximizing your investment. That's why we offer durable corrugated plastic totes that not only protect your goods but also provide a high Return on Investment (ROI). Our plastic totes offer many cost-saving benefits, ensuring a more efficient and economical packaging solution than traditional cardboard options.
Minimize Expenses, Maximize Returns
Switching to corrugated plastic totes enables users to significantly reduce the expenses typically associated with cardboard usage. The cost-effectiveness of our totes becomes evident as each one pays for itself within a short period. This swift ROI translates to quicker financial gains, setting you on a path to increased profitability.
Exceptional Longevity
In the realm of durability, our plastic totes reign supreme. Unlike their cardboard counterparts, our totes boast a considerably longer lifespan, allowing you to utilize them for years to come. Crafted with care, each tote features welded construction, resulting in unmatched durability, longevity, and overall strength.
Polypropylene or Polyethylene: Your Choice
Personalization meets performance with our plastic totes. Choose between polypropylene or polyethylene options, each designed to cater to your specific needs. Regardless of your choice, rest assured that MDI's plastic totes offer exceptional resistance and protection against various environmental factors.
Sustainable Solution
We take pride in offering products that benefit your business and contribute to a greener future. Our corrugated plastic totes are not only durable and reusable but also sustainable. By opting for these totes, you're making a conscious choice to reduce waste, both in the short and long term.
Contact MDI Today for Regular Slotted Containers
Make a smart investment by choosing MDI's corrugated regular slotted containers. Experience the advantages of minimized expenses, increased ROI, and prolonged durability. Embrace a packaging solution that aligns with your business's goals and values – one that promotes efficiency, cost-effectiveness, and environmental responsibility.
For all your regular slotted container needs, rely on MDI. Contact us now to explore our offerings, discuss your unique requirements, and elevate your packaging standards.