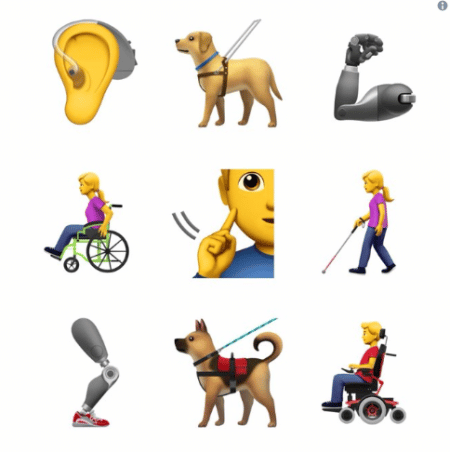 Apple has outlined a series of emojis "to better represent individuals with disabilities," according to a proposal submitted to the Unicode Consortium.
People on social media have been cheering for the long overdue representation. Emojis with hearing aids and using sign language, wheelchairs and white canes are among the proposed options for iPhones.
The proposal states that emojis "may not represent the experiences of those with disabilities," but that diversifying emoji options "helps fill a significant gap and provides a more inclusive experience for all."
The new emojis would focus on representing people with disabilities in four main categories — blind and low vision, deaf and hard of hearing, physical and motor skills and hidden disabilities.
Read full story on MSN.com.
(Source: MSN.com, accessed 28 March 2018. Written by BrieAnna J. Frank, USA Today, on 26 March 2018.)