During National Disability Employment Awareness Month, MDI is saluting people who've stepped ahead, above and beyond in the name of equitable opportunity and employment for people with disabilities.  
Meet, Lewie & Marcus.
Entrepreneurs Breaking Down Barriers
Hotel Rapids I  Bar. Bistro. Hotel
Like every other business owner right now, I'm [Lewie] struggling with hiring enough staff at my hotel. We're lucky because we have a pretty good staff already onboard, but people all around us are struggling to find employees. And at the same time, the unemployment rate for people with disabilities is twice the general population.
I'm an entrepreneur and an innovator by nature. When I hear that stat, I think about opportunities to tap into this workforce. Plus, I'm also personally connected. My brother Marcus has a disability.
Just like others in our family, Marcus has to earn his keep. So, I offered him a job at the hotel. We're doing a test run with him and seeing how it works, but I'm kind of tough on him because he's my brother. He was the homecoming king in high school; I can't take him anywhere in town where like people don't know him. He's very social. But when he's working the front of the house shooting the breeze, it's easy for me to say, "Hey, there's stuff to do. You gotta earn your keep. Move your feet."
I do want Marcus to be in the front of the house more than the back of the house, getting that balance where he's not just in the back folding laundry, but doing the whole of it, getting a feeling of the operation, greeting people and clearing tables, having a sense of purpose and belonging.
"If you look out to the horizon, you understand there's a bigger movement in play."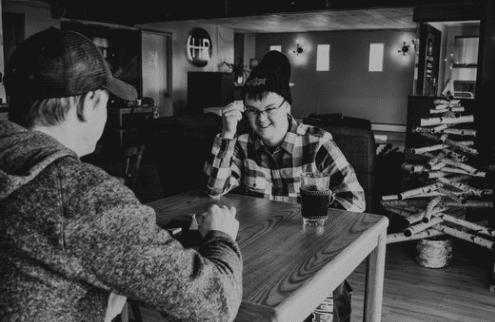 But for an organization to hire a person with disabilities, I have to be honest, it will take staff resources at first—that's a reality. It's hard enough to train people with experience. But if you look out to the horizon, you understand there's a bigger movement in play. People in general are more socially conscious of how they spend their time and their money. And integrating people with intellectual disabilities can be done.
I've always wanted to work out a program to include intellectually disabled adults in our normal operations – create a jumpstart package to make it happen. It could be really beneficial for other small businesses and make it easy—without them having to know what I do from my own personal experience from working with my brother Marcus. To develop an FAQ that gets a lot of the legwork out of the way, and it's more of a plug-and-play program to get started.
"As business owners, we're conditioned to focus on the bottom line and day-to-day. If we could just break down the barriers there's this truly untapped workforce."
I think everybody's a different puzzle, but that's both the so-called special people and the non-special people. I know a pretty good group of the intellectually disabled community in my area through a friendship club, and that's helped me think about it. For me, the end game is to have a complete paradigm shift of how the entire population can see the bigger picture.
As business owners, we're conditioned to focus on the bottom line and the minutiae of day-to-day operations. If we could just break down the barriers and other business owners' preconceived notions, there's this truly untapped workforce of people who really want to work and are prideful in what they do. So my goal is to create a recognition that this is working, what we're doing, so hopefully other businesses can start seeing the benefit for their operations too.