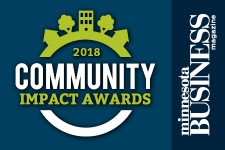 MDI has been named a finalist in the 2018 Minnesota Business Community Impact Awards for Social Enterprise work.
The Community Impact Award honors businesses, social enterprise organizations, nonprofits, initiatives and individuals making a significant impact on communities in Minnesota. The "Social Enterprise" category recognizes those that sell goods or services for a social purpose.
At MDI, we empower people with disabilities by offering meaningful employment opportunities. Like all of us, people with disabilities want to do a good job, try new challenges, and be self-sufficient.
We are incredibly proud to be named a finalist for the Community Impact Award alongside so many other generous and caring companies. The winners of the Community Impact Award will be announced in February.