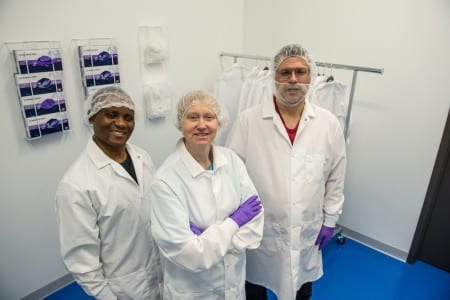 MDI's White Room was recently featured in the Star Tribune Insider Track.  Read full article here, excerpt below.
Local medical-device and technology manufacturers have a new option for kitting and assembly in a controlled environment in a new "white room" in industrial-nonprofit MDI's Minneapolis facility.
The 2,000-square-foot room has a modifiable cell-floor layout that can be arranged for varying product-assembly needs. Two separate entrances – for material transfer and employees – reduce risk of contamination.
"We are the first Minnesota-based, nonprofit organization serving individuals with disabilities to provide assembly and kitting services in a white-room environment," said CEO Peter McDermott of MDI. "Our track record of high-quality work allows manufacturers to stay focused on their core competencies while helping provide more employment for people with disabilities." Continue reading.
Source: Star Tribune. (2018, Jan 26). Nonprofit MDI adds "white room" work to its industrial portfolio [Blog post]. Retrieved from http://www.startribune.com/blogs/inside_track/